4-Cheese Broiled Tomato Slices
Debbwl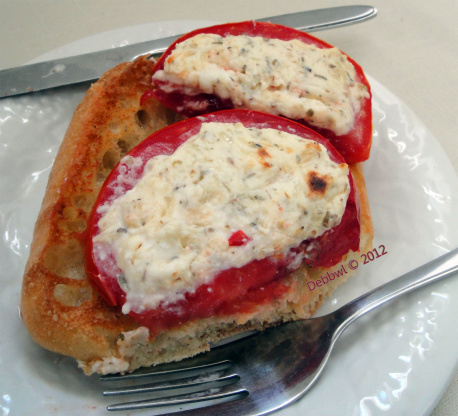 A great appetizer that does not take much time at all to prepare. These would be good on a slice of toasted bread too for an open face sandwich for lunch.

Top Review by Debbwl
Wow Hokies you were right this does make a fantastic open faced sandwich! I halved some ciabatta rolls brushed with olive oil and popped under the broiled along with the tomatoes. The ricotta really adds nice texture and body to the topping on these wonderfully flavored topping, yes I know a whole tablespoon of dried oregano sounds like a lot but it is the perfect amount.
In a bowl, combine all ingredients BUT the tomatoes.
Cut each tomato into 4-5 slices so they are not thin. Spread each slice with 1 tbs of cheese mixture.
Place on ungreased baking sheet and BROIL 3 inches from heat for 3-5 minutes or until cheese melts and is golden brown in color.