350 Roasted Parmesan Potatoes
Tisme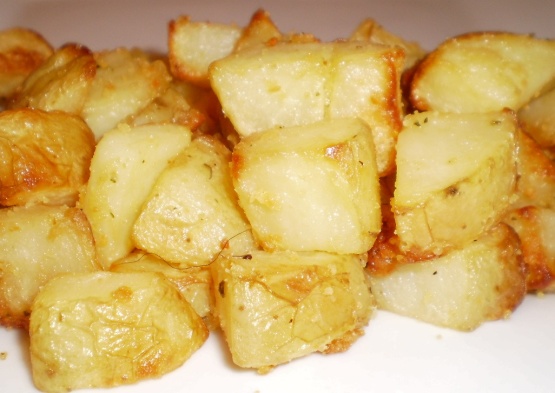 What does the 350 mean? 95% percent of what I cook in the oven seems to cook at 350 degrees, and when I look for something to cook along with it, it nearly always cooks at a higher or lower temp. Rather than having to figure out, "ok, do I need to cook this at a lower temp for a little longer or at a higher temp for a little less?," I came up with this easy roasted potato dish that cooks at 350 and goes with just about everything. Shown in photo with Easy Bruschetta Chicken and Green Beans.

Top Review by Tisme
This is a wonderful and such an easy recipe. The hardest part is the wait for them too cook! At first, I thought I had too much flour mixture, but I didnt, these potatoes were perfect. I only needed to cook for one hour in my oven, and they were fantstic! I did add a few herbs and that was the only change I made. I also did not peel the potaotes as mailbelle suggested. This is a great and perfect side dish for any potato lover. My family loved this recipe and I will be making these again and again. Thanks mailbelle, just the thing for a great side dish with dinner tonight.
Combine flour, seasoning salt and Parmesan cheese in a plastic bag, mixing well.
Add cubed potatoes to bag and shake to coat.
Melt butter in a 2 quart baking dish.
Pour in potato cubes and stir to make sure they're thoroughly coated.
Bake at 350 degrees, stirring every 15-20 minutes, for 1 1/2 hours.