diner524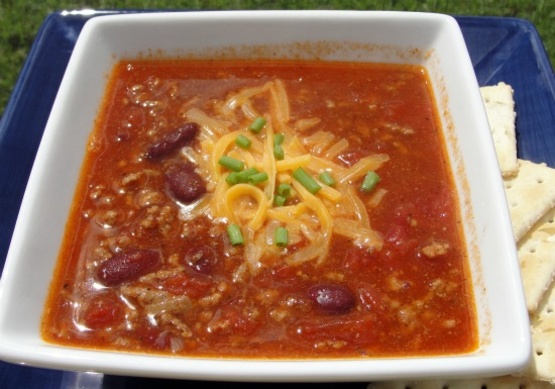 This chili tastes remarkably good and can be made for dinner when you are pressed for time. The recipe comes from the beefitswhatfordinner.com website, but I originally saw the recipe in the newpaper. I have made this several times, used whatever beef I had on hand. I've also added more beans and tomatoes to the same quantity of beef, and it still tasted great.

Very nice tasting chili this is! When making it I took your advice (since we DO like lots of beans in our chili) & used 2 additional cans of those as well as another can of the tomatoes! So easy to make it, too! Thanks for sharing the recipe!
Heat a large nonstick skillet over medium heat. Add the ground beef and cook for 8 to 10 minutes, breaking it into 3/4 inch or so crumbles and stirring occasionally. Drain off the fat.
Stir in the beans, broth, tomatoes and chili powder, and bring to a boil. (You can hold back some of the broth if you want a thicker chili - it depends on whether you add extra beans or tomatoes. Or just cook it longer to reduce).
Reduce heat, cover and simmer 20 minutes to develop flavors, stirring occasionally.
Serve with toppings, as desired.