30 Minute Bean Soup for 2
BarbryT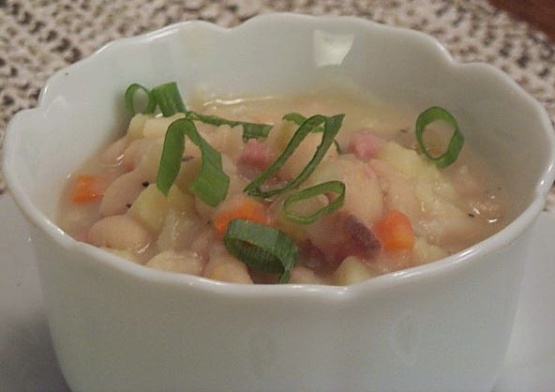 Cooking for 2 is such a challenge! We love dried beans but cooking a small amount doesn't seem worth the effort and we aren't keen on leftovers. This is something I came up with to mimic a hearty bean soup, without all the hassle or leftovers. Even drained and rinsed, canned beans are not something I use often - they taste "off" to me. The added lemon juice brightens up the canned flavor and I suggest not leaving it out. The vegetables can be varied according to taste. Omit the ham for a vegetarian meal or substitute cooked, crumbled bacon for an even richer flavor. Don't like Great Northern beans? Add the variety that pleases you. Using this recipe as a guide, follow *your* tastebuds.

My, my, this is good. And SO easy. You are entirely right that the lemon juice brightens the flavor enormously. I like bean soup, and I usually make a vat :-) of Senate Bean Soup in the autumn and freeze multiple servings. But sometimes those are exhausted before the next autumn and I am hit with a bean soup craving. This is the perfect solution. Thanks for posting it. Bring on more "for 2" recipes! They are very helpful for us 1s too.
In a medium saucepan over medium-high heat, melt the butter.
Add the celery, carrots and onion. Saute until veggies are tender - 2-3 minutes.
Stir in the potatoes and ham.
Add the broth, beans and lemon juice. Season with pepper to taste.
Simmer until potatoes are tender, about 10 minutes.
Stir in the instant potatoes to thicken; use more or less until you get the consistency that pleases you.
Optional - serve topped with thinly siced green onions and/or peeled, diced tomatoes.
Serve with hot buttered cornbread.