30 Minute Bacon Spaghetti for 2
twissis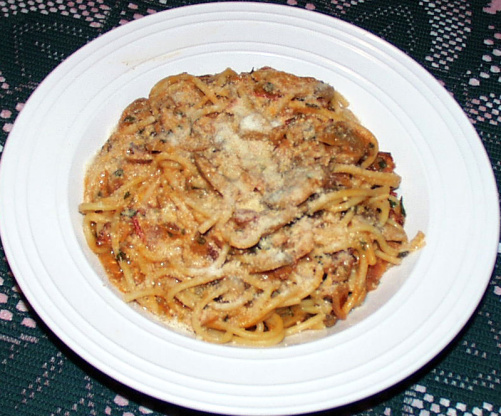 Super fast & easy! Feel free to substitute another ready made sauce or your favorite homemade. This variety just happens to be our current favorite. A great add, of course, is mushrooms!

Amazing! Ended up with 3 adult and 2 toddler serves (as hinted in other comments) but no complaints. Used lite thickened cream, no such thing as half and half, so probably naughtier than original recipe but fussy hubby loved this! I think we've found a new pasta go-to dish!
226.79

g bacon, chopped

118.29

ml onion, chopped

118.29

ml red pepper, chopped

118.29

ml parsley, chopped

453.59

g jarbertolli olive oil & garlic pasta sauce

118.29

ml half-and-half cream

226.79

g angel hair pasta

226.79

g fresh sliced mushrooms (optional) or 113.39 g jarred sliced mushrooms (optional)
Brown bacon. Pour off all but 1 tablespoon of fat.
Add onions & peppers + mushrooms, if using. Cook, stirring often, till onion & peppers are tender; ~ 5 minutes.
Stir in sauce & parsley. Simmer.
Meanwhile, cook pasta al dente.
Drain pasta & add to sauce. Spoon in pasta water to thin.
Stir in half & half.
Serve.