3 Variations of a Gluten Free Bread Recipe - Bread Machine
Anonymous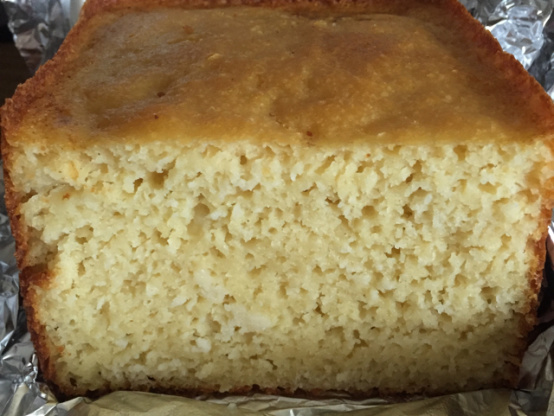 I have tried lots of variations of Gluten free bread but I wanted a recipe that I didn't have to search high and low for the different flours, this recipe has also cooked the best so far in my bread maker machine. Better yet I could get all the flours in one stop at the organic store. (Tip: Asian Markets have potato starch and tapioca and rice flour too) This recipe is Butter-Basted White Bread; I got this from a book in the library, I cannot remember the title or author. I make this bread for my mother and friend who cannot have gluten in their diet. They rave that this is better than the small store loafs and love that it cuts without crumbling and ideal for sandwiches, toast etc, they both prefer the 1 white/1 brown rice flour mix with linseed and sunflower seeds for taste and texture. The minimum setting I have on my bread machine is 4 hours, the bread cooks fine on this for me. Produces a smaller loaf than wheat bread loafs but still a decent size.

Ah yes, I know where this recipe is from: its the " Butter Basted White Bread" recipe from Bette Hagman's 'More from the Gluten -free Gourmet' cookbook. Its my FAVORITE GF bread recipe for toast & sandwiches. Because gluten free bread does not have to be "punched down" you can use the "quick bread" setting on the bread machine ( which on my sunbeam is 1 hr 20 min) and the bread turns out beautifully and in less time. Another time saving time I use is to combine all the dry ingrediants ( except the yeast) and store them in seperate quart size zip lock bags. That way when I need to quickly make a loaf of bread in the morning I just dump the bag into the bread machine pan, and in a seperate bowl combine all the liquids, add that in the pan, add yeast, and good to go. For a sourdough type flavor I use homemade Kefir thats meen allowed to culture for 2-3 days and is very sour and bubbly. This also makes the bread a bit lighter as well. A tablespoon of ground flax seeds adds nutrients, some nutty flavor and if you are allergic to eggs 2 tablespoons ground flax helps bind the dough together beautifully as well.
Most of the ingredients can be placed straight into the baking pan of the bread maker in the order suggested in your manual. (Some place yeast on bottom, flour mix next, then sugar and liquids; other suggest the reverse order.).
Place 1 & 1/2 tablespoons yeast in bread pan.
Add all the flours, xanthan/guar gum, milk powder and salt.
Add the sugar.
Beat the eggs.
Combine all the water, the butter, vinegar, and eggs. (If your bread machine manual recipes call for warm water, use that. If it has a pre-heating cycle, put in at room temperature.).
Use the white bread setting at medium crust (if you have this selection). Alternatively 3-4 hour setting.
NB:.
1. Be careful reading tablespoon and teaspoon (I have read it wrong on occasion and achieved a 'not so good loaf').
2. I recommend that you always go back to the ingredient list and check you have included everything (that isn't optional) before cooking.
This bread freezes well, for convenience slice before freezing.
WHITE & BROWN:.
Exchange 1 cup or both cups of white rice flour for brown rice flour. The results are excellent.
TENDER BUTTERMILK BREAD:.
A tasty bread with a distinctive flavor, it seems to stay fresh longer than other breads. Some lactose-intolerant celiacs can use buttermilk, so this may be a boon for them if they are allergic to the soy in some of the baby formulas or the coconut oil in most of nondairy substitutes.
Follow the recipe for White Bread, but substitute 1/2 cup powdered buttermilk for the milk powder and omit the vinegar. Follow bread machine making instructions as per normal.