3 Step Fettuccine Alfredo

Got this off the package of fettuccine noodles. I like that the ingrdients can be purchased in the quantites needed, so no half open packages are in my pantry. Kids and adults alike love it and it goes with everything! Most important step is to add the butter first.
Directions
Pour butter over cooked noodles and stir.
Add cheese and cream, stir.
Let sit 5 minutes to thicken, stir and serve.
Most Helpful
I like this recipe so much. So easy with the 3 step. And it's delicious. Thanks Dawnab :) Made for Cookbook tag game
didn't turn out very well for me... it was a little heavy and not as flavorful as I wanted it to be.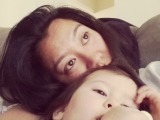 Can you say, "YUMMO"? .•:*¨¨*: 5 Stars ***** and Two Thumbs Up with a Smile! : ) I added steamed broccoli & a touch of minced garlic. Next day... I had a bit left and added pulled chicken from a Rotisserie Chicken made a few days ago. EASY!! Thank you