3-Step Biscuits or How to Break up With Your Girlfriend Biscuits
Junebug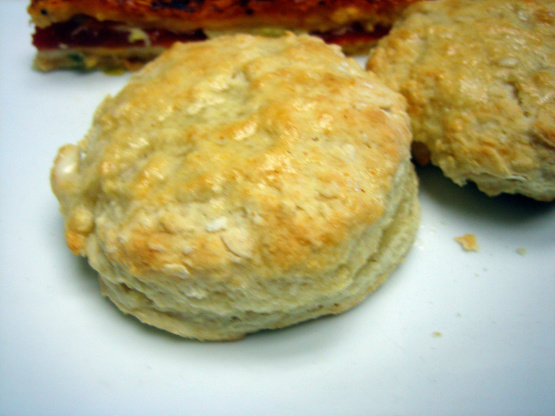 A light-as-air biscuit with a new twist on texture and flavor. This one is from Southern Living magazine (April 1998).

These are so easy to put together and have a wonderful flavor and texture. There is no excuse now to not have fresh baked biscuits in the morning. For a little change I may next time add some fresh herbs and maybe sauted chopped green onion. But as is, they are just wonderful. Thanks Fauve for another wonderful recipe. And Congrats on the football pool win.
Stir together all ingredients (dough will be crumbly).
Turn dough out onto a lightly floured surface.
Knead 3 or 4 times.
Pat or roll dough to 1/2 inch thickness; cut with a 2 1/2 inch round cutter, and place on a lightly greased baking sheet.
Bake at 400°F for 18 to 20 minutes or until golden.
-----------------------------------------------------.
NOTE: Keep in mind that the secret for making excellent biscuits is-- Try not to handle dough too much or too firmly-- The less manipulation (kneading, handling dough a lot with hands) the better the texture.
Now, About the bad reviews, please know this: In order for this to work, YOU MUST USE SELF RISING FLOUR. So go follow it "to a T" and if your girlfriend wants to break up with you over failed biscuits -- well, she is superficial and you'd be wise to break up with her before she breaks up with you! And always remember this: If you can't say anything nice, then don't say anything at all.