3 Onion, Mushroom and Garlic Soup
Rita1652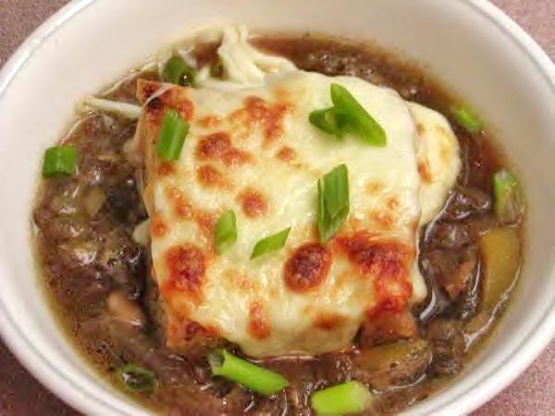 This is a buttery, hearty, warming soup. Has leeks, red onions, scallions, lots of garlic, and dried Porcini mushrooms. You can top it with cheese if you like.
Okay so things you should know about this recipe: it's a great base, starter soup but it's very thin not hearty. Most of the flavour is coming from the vegetable broth and mushroom of course. It is also a sodium bomb especially if you add the teaspoon of soya which I felt it needed but I know others added even more (not sure how). I added potatoes but not enough and puréed 3/4 of it in the end and added it back with the rest of the soup. Still was very thin. I suggest do this recipe and add a few big potatoes than purée it for a thicker consistency. The taste was very good! The moz cheese on the top is a good idea but can easily submit for vegans. I actually added this on top of basmati rice to make it more of a meal! Was amazing! But again it's a very thin clear soup so if you want something heartier add potatoes or chickpeas etc with a little purée time. : )
Melt butter and olive oil in a large pot.
Sauté leeks, onions, salt, pepper, sugar, 8-10 minutes adding garlic and cook 3 more minutes.
Add strained chopped mushrooms, water, beef base, strained liquid from mushrooms and parsley.
Bring to a boil lower heat to a simmer and cook for 20 more minutes.
If desired, toast bread in over and top with your favorite cheese and place on top of soup and serve topped with a garnish of scallions and pepper.
For vegetarian use only the vegetable base.