3 Ingredient Fluffy Apple Pancakes!
Boomette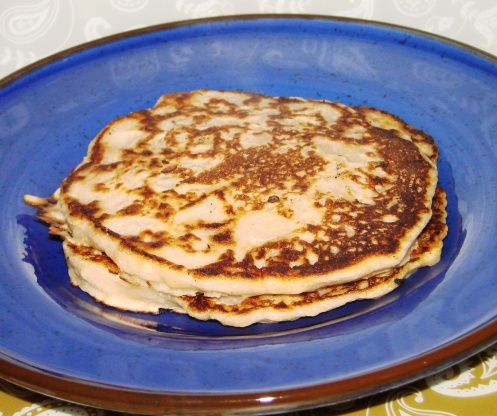 Easy to prepare; relatively diet friendly too! Can easily be doubled. I came up with this recipe while experimenting with Bisquik. Can also be cooked with heart smart Bisquik.
In a medium bowl, mix Bisquik, applesauce and water. Add cinnamon if desired.
Be sure to add liquids slowly to adjust for desired thick/thinness; do NOT make it too thin or pancakes will not set.
Spray skillet with nonstick spray, set over high heat.
To test for appropriate heat before cooking: splash a few droplets of water on skillet; if water splatters across the skillet, it is ready. It is important to get the pan hot before you cook or pancakes won't brown properly.
When ready, pour in batter, about 3 tbsp full each for smaller pancakes, or according to personal preference.
Wait about 1 minute, or until bubbles set, before flipping.
Don't flip too many times or your pancakes will be flat!
Serve immediately, or if not, leave to cool on paper towels and freeze for longer storage.