3-Ingredient Cinnamon Banana Slice
ladypit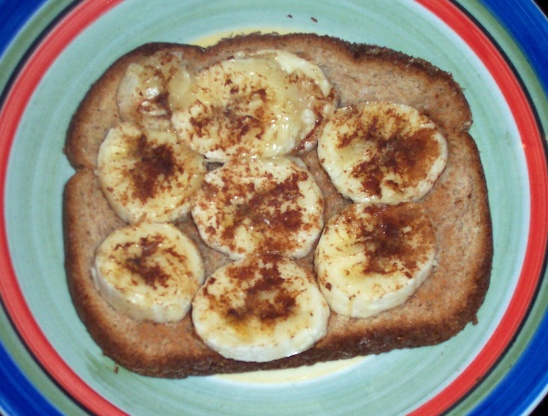 An absolutely delicious done-in-a-snap snack, or breakfast treat (if you double/triple the recipe) that's as much fun to make as it is to eat! You end up with a slice with pretty, circular patterns, that's soft and sweet on the top, and crisp at the bottom!

Oh yum! This was great. My only problem was that I used Potato bread and ended up burning the bottom a little (but it was still delicious!), so my suggestion for white bread users is: follow the instructions above, and when the bottom is brown take the sandwich off and if the bananas are still intact, microwave for a couple of secs. :) Delicious! 2 thumbs up
Heat a nonstick griddle over a low to medium flame, and place the bread slice on it.
Let it just lie there for about a minute (you can slice the banana now!).
Now carefully cover the bread with the sliced banana discs, overlapping if necessary, and sprinkle the cinnamon over this.
Using a flat spoon or ladle, gently press the bread slice with with back-to-front movements (you will see part of the banana slices sinking into the bread and the cinnamon merging with the bananas).
When the bottom of the bread slice is well browned, remove from the griddle and eat immediately!