3 Ingredient Chewy Macaroons
Saturn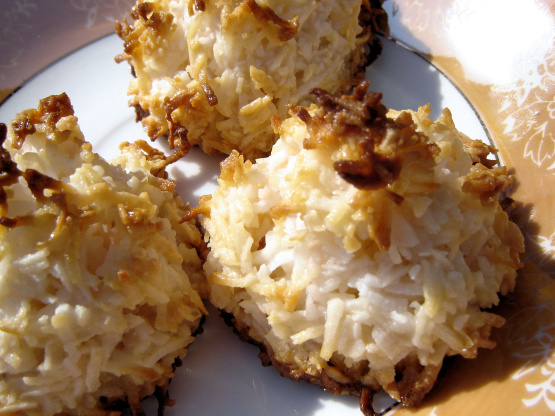 These are my family's favourite macaroon. Always a constant on holiday platters. I guessed at the amount, because I usually combine large and small cookies when I bake.

I was conflicted by these. The taste is amazing. I could even eat the batter by itself it's so good. Baking was difficult. I used a cookie scoop and the bottoms would brown and harden but the tops would still be "raw." So the next batch I made them thin and small like cookies and they spread like crazy and were very sticky. Again, taste was great but then they didn't really look like macaroons. It must be something I am doing wrong. They are tasty, but wasn't something I was able to add to my candy/cookie tray.
Preheat oven to 325 degrees.
Line cookie sheet with parchment paper. Do not just grease sheet as they will stick. Yes, that is experience. lol.
Mix all ingredients together until well combined.
Depending on the size you make them, either use a spoon or an ice cream scoop, and place on sheets.
Bake for 10 - 12 minutes.
When baked, transfer to cooling racks.
These freeze wonderfully.