mara625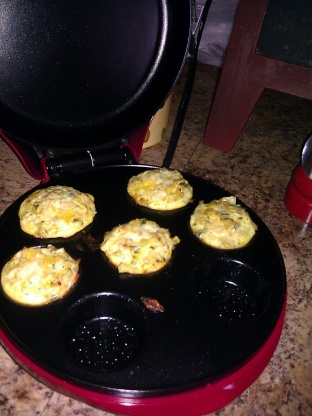 Mini appetizers filled with Cheddar, Parmesan and mozzarella cheese... scrumptious!!! Artichoke awesome-ness

I made half this recipe for Thanksgiving and didn't make enough, they were gone in a flash!! We had 12 adults so that was only 2/pp and should have made enough for 3-4/pp. I followed the recipe completely except it needed more time in the oven. I made these a day ahead and reheated before serving.
In a skillet over medium heat, saute onion and garlic in oil until tender; drain and set aside. Combine artichokes, eggs, cheeses, seasonings, and sauces in a large bowl; mix well. Stir in onion mixture and bread crumbs.
Fill greased mini muffin cups 2/3 full. Bake at 325 degrees for 15 to 20 minutes, until firm and golden.
Serve warm, sprinkled with additional parsley, if desired.