mianbao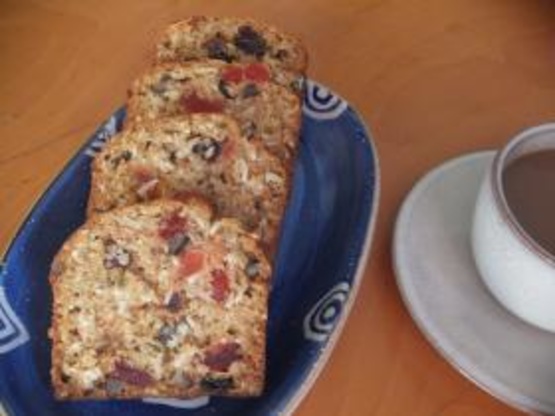 This sweet bread features carrots, coconut and cherries. That tasty combination ensures each loaf is a welcome gift!

This is a very nice old-fashioned quick bread. It isn't as sweet as I expected (not a bad thing), though that may be because I used unsweetened shredded coconut. It seems to me that most flaked coconut is sweetened. I think that may add to the sweetness somewhat. Anyway, I'm quite happy with this. One thing to remember with breads like this is to let them stand overnight in order to give the flavors time to meld. They are not as good eaten soon after baking! Thank you very much for sharing this recipe with us.
In a large bowl, combine the first six ingredients.
In a small bowl, combine the eggs, milk and oil.
Stir into dry ingredients just until moistened.
Fold in the carrots, coconut, cherries, raisins and pecans.
Pour into four greased 5-3/4-in. x 3-in. x 2-in. loaf pans.
Bake at 350° for 40-50 minutes or until a toothpick inserted near the center comes out clean.
Cool for 10 minutes before removing from pans to wire racks. Cover and store in the refrigerator. Yield: 4 mini loaves.