2nd Time's the Charm Cornbread Pudding
Aida C.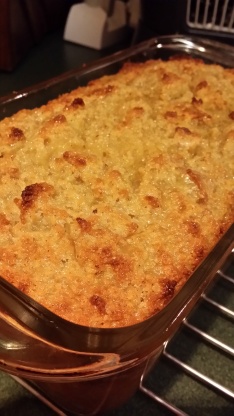 Mmm-mmm, good! Whenever I make cornbread, I always double the recipe and voila! 2nd time's the charm with this delectable cornbread pudding. I use the leftover cornbread the second day so the bread sops up all the delicious pudding!
I decided to try this recipe with some leftover cornbread that I didn't want to waste. I've never heard of cornbread pudding, so I went into it with a "what do I have to lose" attitude. I was pleasantly surprised! This pudding turned out to be absolutely delicious! Even my picky boyfriend - who was very dubious about the endeavor - actually loved it. My only complaint is the vagueness of the cooking directions and the author not including a description of the finished product, mainly describing what the proper consistency should be. I cooked mine for 60 minutes and still wasn't sure if it was done. I was just about to put it back in the oven when I decided to Google Cornbread Pudding and, after a bit of reading, found that the dish should have a custard-like consistency. If so, I probably left mine in the oven a bit too long. It was still soft and very moist inside, but cooked beyond what I would consider to be custard-like. Probably 50 To 55 minutes in the oven would have been perfect. However, I still liked the cakey/pudding-like consistency and was happy with the finished product. I'll definitely make this again whenever I have extra or leftover cornbread, but I will take it out of the oven sooner. I did post photos of my finished dish if anyone is interested.
Preheat oven to 375 and spray glass loaf pan, then layer cornbread in bottom.
In a mixing bowl, whisk eggs, milk, sugars, and aromatics.
Pour over cornbread, pressing chunks of bread down into liquid. Liquid should cover all bread.
Bake at 375 until all pudding mixture is baked and golden.
Delicious served hot or cold!