Roxanne J.R.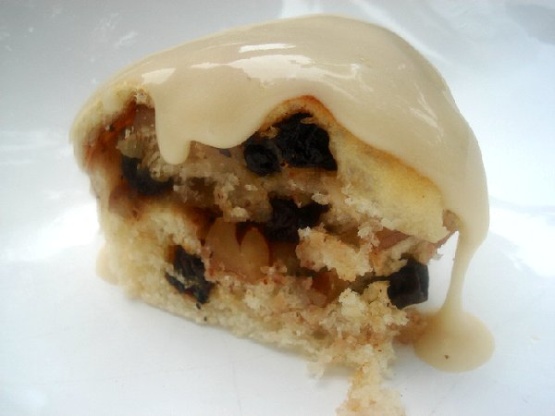 This is a yummy treat that you can make either individual rolls or as a danish ring. Very simple and oh-so-yummy! For a quicker version (you won't need to let dough rise or any of those steps), take 1 (8 ounce) can crescent rolls and carefully unroll them keeping them intact and sealing the preforations so that you have one oblong sheet of pastry.

This is a wonderful recipe. I loved the dough, it was very easy to work with. I let my dough rise overnight in the fridge and finished assembling this early in the morning. I used brown sugar in both the dough and filling and raisins instead of dried fruit. After reading a few of the reviews I only used 1 1/2 c. of sugar in the glaze and it was plenty sweet. It turned out beautiful and so delicious! Thanks for sharing your recipe.
PASTRY: Dissolve yeast in warm water. Add in sugar and salt, then the egg and shortening. Mix in half of the flour. Gradually add the rest of the flour until dough is easy to handle. Place dough in a lightly oiled bowl, cover with plastic wrap and place in refrigerator about 2 hrs or until doubled. (Can set overnight and used early the next morning).
Punch down dough. Roll out into an oblong shape (about 6"x14") and brush well with melted butter. Sprinkle cinnamon sugar over pastry followed with the dried fruit and then the chopped pecans. Starting from the long side, roll up jellyroll fashion.
FOR RING SHAPE: Place on large baking sheet joining ends together to form circle of dough. Using kitchen scissors, snip 2/3 way thru in 1 inch intervals. Lay sections on top of the next like dominos, turning them a little outwards. Let raise 1 hr or until doubled. Preheat oven to 350°F Bake until 30-40 minutes or so until done.
FOR ROLLS: Slice the log into 1" slices and place disc down onto a lightly greased baking sheet for individual danish rolls. Bake 20-30 minutes.
ORANGE GLAZE: Combine orange glaze ingredients adding a little orange juice at a time to make a semi thick glaze and set aside. Remove pastry from oven and allow to cool about 10-15 minutes.
Brush with a thin layer of glaze then quickly sprinkle with almond slices over top and press gently to set. Spread (or pour slowly) the remaining glaze onto cooled danish. Serve warm or at room temperature.