2bleu's Key Lime Pie Bars
2Bleu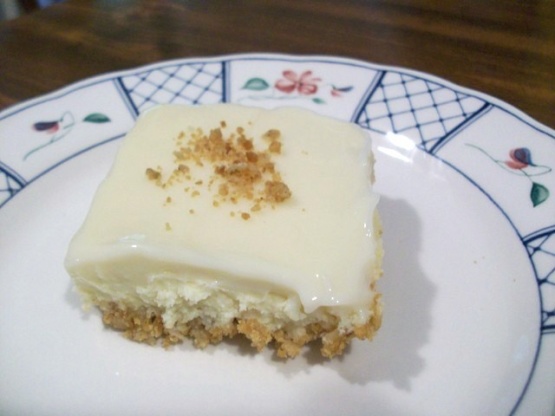 We've taken several Key Lime pie recipe's, and adapted them to fit our tastes, it's less tart, but still tangy. Does not include 4 hr chill time. You can use regular sugar and regular sweetened condensed milk if you like.

Made for hubby's b-day, this was a winner with everyone! Based on other reviews, I made the following changes: CRUST: no sweetener added. BOTTOM LAYER: prepared as directed TOP LAYER: 1/2 c. key lime juice and about 12 oz. sweetened condensed milk, no vanilla.

This created the perfect mix of sweet/tart for us. I did use fresh key limes, 1 small bag provided all the juice I needed. LOVE the crust & that this recipe is like a key lime pie & cheesecake in one. Thanks so much for posting--it's a keeper!!!
CRUST: Preheat oven to 350°F Blend granola and almonds in a food processor until coarsely ground. Add graham cracker crumbs, melted butter, and sugar. Mix to blend well. Press the mixture (save 1/4 cup of crumbs for a deco topping, if desired) into a 9x13 baking dish. Bake for 10 minutes, until crust is golden brown. Remove from oven and let cool.
BOTTOM LAYER: Mix well (using a blender, food processor, or hand mixer) all bottom layer ingredients to blend. Pour into the pie crust. Bake 20-25 minutes, or until mixture sets. Cool to room temperature.
TOP LAYER: Mix top layer ingredients in a mixing bowl. Pour over the cooled baked layer spreading out evenly and smooth over the top. Cover and refrigerate, at least 4 hours. If you saved some graham cracker/granola topping, sprinkle over top just before serving.