2Bleu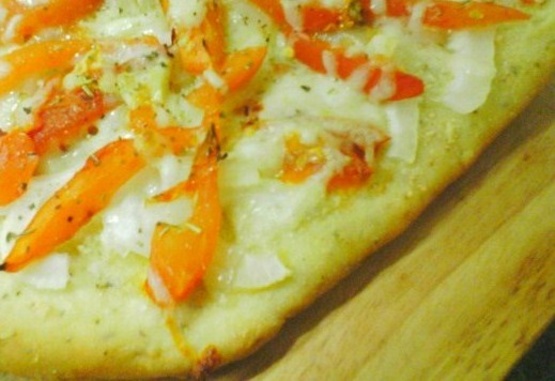 This is our super easy version of the famous pre-baked pizza crust. It's very flavorful. You can use most any type of flour such as self-rising, all-purpose, or even bread flour. Time does not include rise time. This flatbread is great as is, or with your favorite pizza toppings.

Top Review by ImPat
I only made a half portion because after going out and buying the yeast and then doing measurement conversion I found I should have bought the large packet (do conversion before shopping not after). Used about 1 teaspoon of dried italian herbs in place of seasoning and the smell was devine when cooking. The only area were I feel I mucked up was that my water was not warm enough to feed the yeast (no thermometer) as it only rose about 50% even though I had it sitting on a chair in the winter sun coming through the glass door with damp towel over and a constant eye to make sure the cat didn't decide to investigate. Used as a pizza base and was enjoyed by the DM, DS and myself. Unlike previous reviewer I did not find it too thin, would possibly have rolled it thinner but had already rolled to fit a 32cm x 32cm (12 5/8" x 12 5/8") baking tray. Thank you 2bleu with a recipe that I will not only make again but would like to play with in adding different flavours with seasoning/herb mix and I think it will go not only well as a pizza base but to use with dips, soups or stews. Made for Please Review My Recipe Tag Game.
Add all ingredients except the olive oil to your Kitchenaid or stand mixer. Let machine knead the dough for 3-4 minutes until it pulls away from the sides and forms a soft ball of dough that will be slightly sticky. Place in lightly greased bowl, cover with a damp cloth and let rise for 1-1/2 hours or until doubled in bulk.
Turn dough out, punch down and knead by hand for 5 minutes or so. Return to bowl and let rise for 30 minutes.
Preheat oven to 400°F.
Divide dough in half. Roll out two 10-2" rounds and place on two baking sheets that have been lined with parchment paper. Brush olive oil over tops and bake for 10-12 minutes.
You can now top the crust, freeze it, or eat it the way it is. Just remember when you top it the crust is already 2/3 of the way baked and will require only enough time so that the cheeses, etc. are bubbly. You can opt to broil the toppings if you prefer.