Ashley Cuoco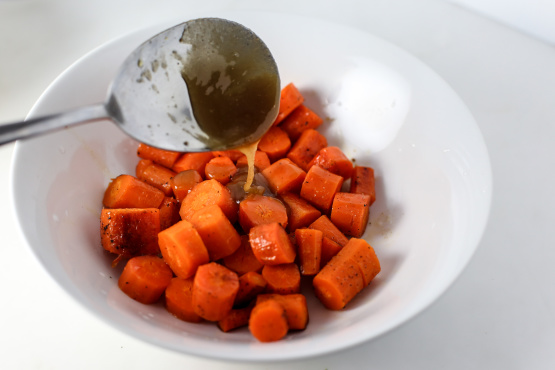 Carrots coated with a yummy butter, brown sugar and ginger sauce. I grew up eating these in Texas. Easy, quick and yummy!-- GREAT way to get kids to enjoy this veggie! If you like a lot of sauce double the sauce ingredients. I posted this less 'saucy' to keep the fat and calories down. The sauce is yummy and great on rice or just on a spoon! Hope you enjoy it as much as we do! I am so honored that this simple little recipe of mine has been so well received. Thank you all for your reviews!

These are definitely delicious carrots and SO simple to make. I used a bag of baby carrots and just threw all of the ingredients into a pot with 1 cup of water. Then I brought it to a boil, covered the pan and reduced the heat to a simmer. I simmered the carrots covered for 15 minutes and then uncovered for 10 minutes until the sauce was reduced. My 80 year old Dad looked at the plate and said: "CARROTS? YUK!" I told him to just try 'em, and he did.... He then requested seconds!
Cook carrots until tender- or to desired doneness. (I usually steam them to retain the most flavor).
Melt butter and add brown sugar and ginger, stirring to blend.
Add sauce to carrots and stir to coat.