Rita1652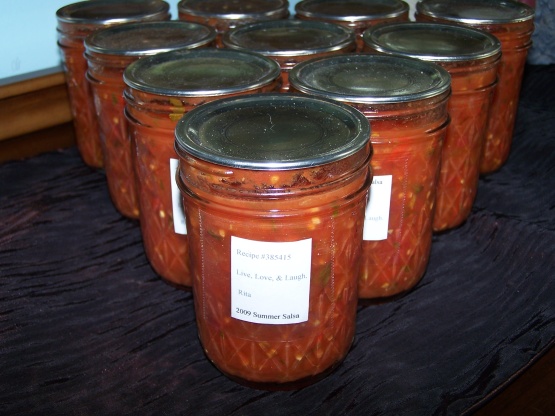 Right out of the garden goods to make a yummy spicy salsa.Using really hot chilies. But skip them if you want it calm.Garden fresh zucchini, tomatoes and onions with fresh herbs. Do use a FOOD PROCESSOR for chopping your veggies to save on time.

This Salsa is very tasty! This is my first year really getting into canning so I was eager to find a great salsa recipe. This one is definitely worth the work. But it is not for those who are short on time or don't like to spend time in the kitchen. The prep time of chopping everything up, even with a food processor, is the only down side to this recipe. The finished product is so colorful and delish!
I used three different types of peppers ranging from 'no heat' to 'lots-o-heat'. So far everyone thinks its a hit; even my brother who hates zucchini likes this recipe.
I only got nine pints from this recipe as we like our salsa chunky.
Please don't be intimidated by the ingredient list. This recipe is so good you won't regret making it!
Place all in a large pot bringing to a boil then reduce and simmer for 20 minutes.
Fill into hot sterile jars leaving 1/2 inch head space.
Being careful not to leave any salsa on the rims.
Wipe jar rims with a clean, damp paper towel. Put on lids and screw on metal bands.
Process for 10 minutes in a hot water bath.
Label and store in a dark place. Use with 1 year.