20 Minute White Bean Chili
Parsley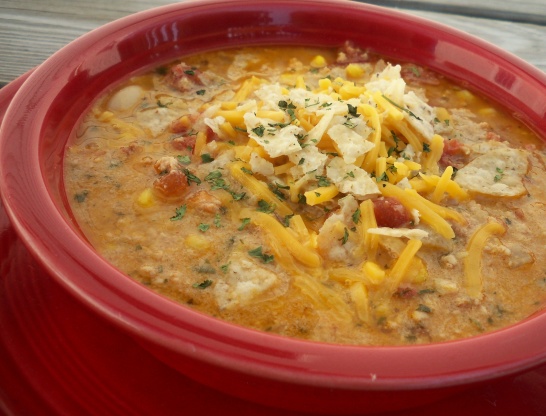 Quick, simple and taste great.

Very good! I have made it a couple of times now. I was a little scared by the amount of Dijon the first time I made this but, it gives the chili a great flavor! I have made it with beef and turkey as I did not have the turkey the first time I made it. I prefer it with the turkey but, it is good with beef as well. Also, I replaced the corn with hominy just cause it sounded good and have made it with hominy both times. Excellent recipe... Thanks!
In 3 quart saucepan, over medium heat, saute onions and garlic in oil until tender.
Add turkey.
Cook until done, stirring occasionally to break up meat.
Drain.
Stir in tomatoes, chicken broth, mustard, chili powder and pepper.
Heat to a boil.
Reduce heat.
Simmer for 10 minutes.
Stir in beans and corn.
Cook 5 minutes.
Top with tortilla chips, shredded cheese and cilantro, if desired.