Sara 76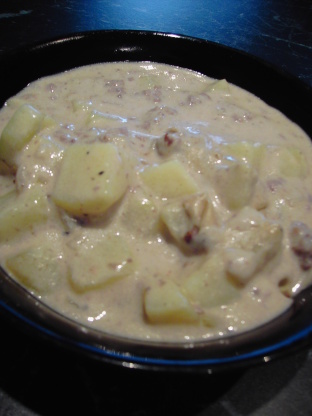 My favorite food is stroganoff and this oh-so-simple recipe makes it a possibility at even the tightest moment!

This was good. you didn't mention how much milk to use, so I used equal parts soup & milk. Hubby & my youngest cleaned their bowls, and even my super fussy 7 year old made a pretty good effort at eating it! It was quick, easy, and cheap to make. Great recipe, Linzi. [made for Fall 08 PAC]
Wash potatoes and place in microwave to cook through and cut into pieces.
While potatoes are cooking, fry ground sirloin in a pan, drain.
Add potatoes, chopped onion, soup, milk, sour cream, and salt and pepper to the hamburger and heat through.