20 Minute Honey Granola - Easy

This is a super easy granola recipe. It isn't overly sweet and is a real crowd-pleaser. It also makes your house smell fabulous for hours after you bake it. I normally add about 2 Tbsp. wheat germ and a tsp. brewers yeast to my dry ingredients - for nutritional value.
Directions
Heat oven to 300 degrees.
Combine oats, nuts, salt, cinnamon and flax in a large bowl and set aside.
Combine oil, honey and vanilla in another, smaller bowl.
Mix wet ingredients into dry - you may need to use your hands.
Then spread the mixture onto two cookie sheets lined with foil or parchment.
Bake 10 minutes. Then remove from oven and stir.
Bake an additional 10 minutes or until slightly golden.
Remove from oven and allow to cool completely.
When cooled, transfer into an airtight container for storage.
Reviews
Most Helpful
Love this recipe! Quick, easy, and so delicious. I now make this every Sunday :). I've also sometimes added some cocoa to make it "chocolate granola".

Excellent granola! The directions are perfect and the end result is fabulous. Addictive, even! I'm glad I made the full batch because we have been snacking on this a lot. Thank you for posting! Made for the Spring Pick A Chef event in the contests and events forum.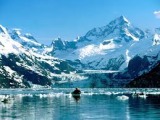 Awesome....this was the first time ever for me making granola... It was fast and easy. I only had toasted flax seeds on hand and I used 3 tablespoons of them. But otherwise this recipe was a good starting point for me. Thanks so much for sharing this. Making another batch over the weekend!