20-Minute Chicken Chili - Dairy Free
JustJanS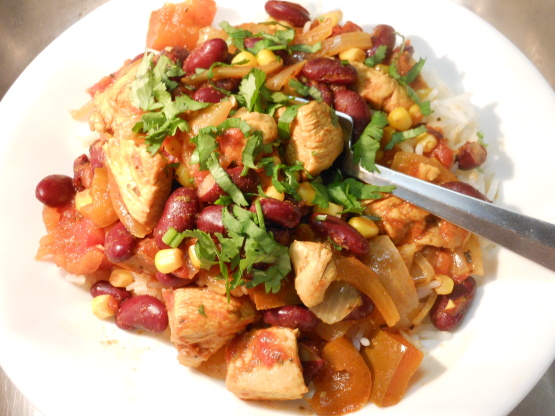 Yummy, filling and EASY chicken chili from The Canadian Living Test Kitchen.

This is so good! I am so glad I made this for dinner tonight. I omitted the green pepper, but used a whole can of corn. I also added a little bit of minced garlic. I used tomatoes with chiles, and black beans. Easy, fast, and most importantly, delicious! I like a little more broth in my chili, so I added about 3/4 cup of water, but that is my personal preference. I also topped with a little bit of cheese! YUM! I will make this often. Thanks so much!
Trim any fat from chicken breasts; cut into 1-inch (2. 5 cm) cubes.
In large heavy saucepan, heat oil over medium-high heat; cook chicken for about 5 minutes or until no longer pink inside.
Transfer to plate.
Add onion, green pepper, chili powder, oregano, salt and pepper to pan; cook over medium heat, stirring often, for about 5 minutes or until vegetables are softened.
Add tomatoes and beans; increase heat and boil, stirring often, for 10 minutes.
Add corn.
Return chicken to pan; heat through.