20 Min. Sour Cream Chicken Enchiladas
lazyme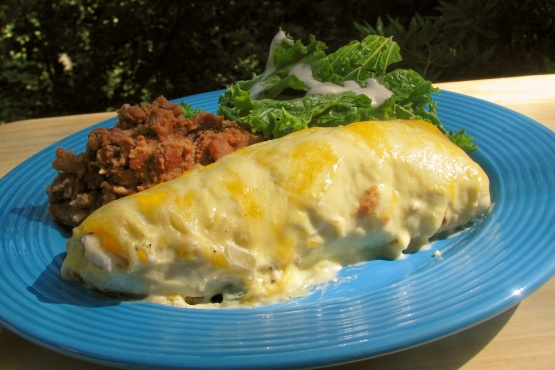 This recipe is GOOD ! I went to a meeting two weeks ago and someone brought it. It disappeared quick ! The lady said it is from the 70's...that they use to have neighborhood block parties when her children were babies and someone shared it....enjoy!!!
Heat tortillas in oil (corn or flour) and drain.
Place 1 T of mixture in the middle and roll up -- line them all up in a casserole and when done -- pour what's left over on top and cover with cheese.
Bake 350 for 20 minutes.
Top with salsa or any relish you like.
P.S. I make my own soup. I melt butter or margarine and add enough flour to make a thin paste and some salt and pepper. I cook this about 2 min while stirring with a whisk as it thickens.
Then I add 1 can of beef broth and some powdered chicken stock and when it gets to the consistency I want I add the 2 cans of chicken & the juice, sour cream (opt) and some chopped jalapenos. After rolling up the tortillas I bake- 5 min before done I top with mexican cheese and some chopped tops of green onion. We serve salsa on the side.