2-Minute Noodles for Two With Ham & Cheese
ImPat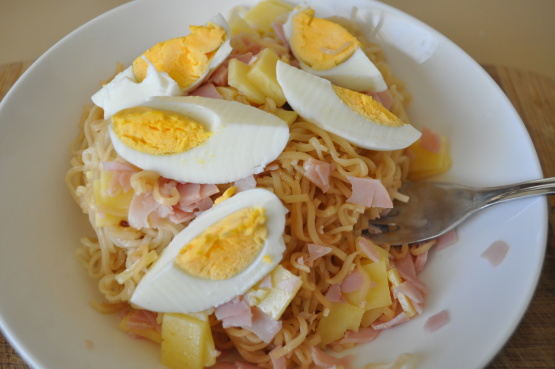 A quick tasty way I serve 2-minute noodles. This makes a generous serve for two, it would be enough for a family of four as a light meal / snack.
3

(85 g) packets2-minute noodles

4

large eggs
1⁄2 cup ham (diced or shaved)
1⁄4 cup cheese (diced or shredded)
Hard boil eggs and let sit in cold water for 5 minutes before peeling and cutting into 6-8 slices.
Cook noodles for 2 minutes in boiling water then drain liquid and add in flavour satchets from 2 of the packets (ie one will be left-over).
Gently mix cheese, ham and sliced egg into the noodles and serve immediately.