awalde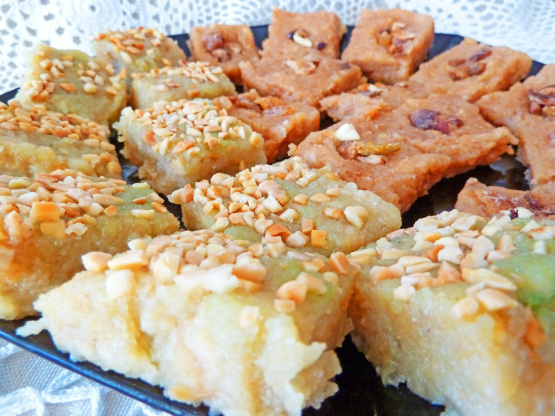 An Indian inspiration! Microwave recipe.

This isn't the Halva that we are used to but thats fine, this is yummy. I made both the cinnamon and cardamom and topped each with chopped pistachio's. Using the food processor helps this go really fast. DH loved it! wow :D. This is simple and very tasty. I had a small bit of trouble cutting it into nice looking squares but I'm sure thats because I didn't allow it to chill long enough. I'm so pleased that I tried this! Made for ZWT 8.
350

g apples, peeled and grated

1

cup sugar
1⁄2 cup condensed milk (7.5 % fat)

4

tablespoons semolina

Cinnamon halva

1⁄2 teaspoon ground cinnamon

2

teaspoons dried fruit, for topping (any dried mix fruits for cakes)

Cardamom halva

1⁄4 teaspoon ground cardamom

2

teaspoons nuts, broken roasted (like almonds, pistachios, cashew or peanuts)
Microwave the grated apples 3 minutes (900 W or maximum).
Add sugar, condensed milk and semolina.
Mix well.
Microwave all together 12 minutes (900 W or maximum).
Dived in 2 portions.
Prepare 2 greased pans of 5 to 7 inches.
Cinnamon halva: add cinnamon, mix well, spread in the first pan and decorate with dried fruits.
Cardamom halva: add cardamom, mix well, spread in the first pan and decorate with almonds or nuts.
After cooling down keep in refrigerator and cut in small pieces.
Serve refrigerated or at room temperature.