diner524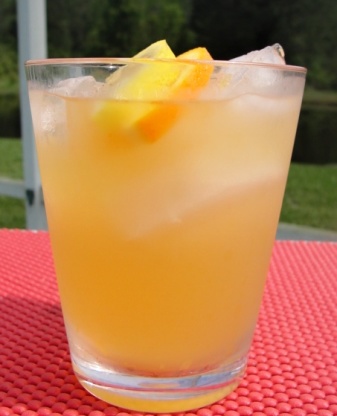 Another lemonade recipe from a lemonade cookbook. I have not tried this. Cooking time is sitting time.
Oh how I love citrus fruits and this was a great combination of orange and lemon!! I cut the recipe to serve 2 and would say this only serves 4 for the whole recipe as this made one medium sized glass for the 2 servings I made. This is really sweet, so next time I would cut the sugar in half, but that just personal preference and I like things tarter. I think that adding the OJ always helps sweeten the drink. I used fresh lemon and orange juice. Thanks for sharing the recipe, I will be making it again. Made for your win in Tic Tac Toe Event in the Games.
Combine water and sugar in saucepan.
Bring to a gentle boil on medium.
Simmer 3-5 min., let cool.
In a 1 qt container combine juices and zest.
Stir in the cooled syrup and let sit for 2 hours and THEN chill.
To serve put 1/3- 1/2 Celsius mixture in a 10 oz glass with cracked or crushed ice and top off with water.