1950s Picture Salad: Peach and Cottage Cheese
lazyme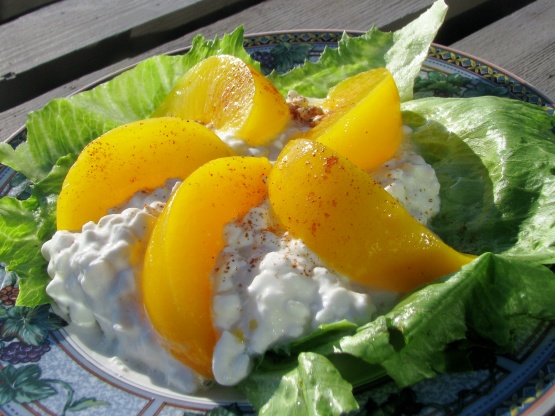 Way back when, salads that were as pretty as a picture were quite the thing. Here is a salad that was very popular at the time. I have also included other popular picture salads of the period.
4

canned peach halves, drained

473.18

ml cottage cheese with chives
Put a lettuce cup on each salad plate. This is a leaf of lettuce that is curled to form a cup-like shape.
Place one peach half in each cup.
Top with about 1/2 cup cottage cheese mixed with chives.
NOTE: Other Picture Salads: All are to be seved on cups of salad greens.
Pineapple Chunks 'n' Cherries: Arrange these two in lettuce cups. If using fresh cherries, it is nice to pit them.
Apricot 'n' Cream Cheese: Use drained apricot halves, cut side up. Top with softened cream cheese and chopped dates.
Pineapple-Banana Nut: Plae fluted sliced bananas (which have been dipped in pineapple syrup) on rained pineapple slices. Sprinkle with salted peanuts.
Molded fruit Cocktail: Fold well-drained fruit cocktail into slightly thickened fruit jello, using the syrup for part of the liquid used to make the jello.
Blushing Pear: Put 2 pear halves together with softened cream cheese. Sprinkle paprika on one side to make a blush. Top with cream cheese green pepper, and a water cress stem.