15 Minute Vanilla Rice Pudding

Another easy way to make a rich creamy pudding. Re-found the recipe on the Kraft foods web site. You can also use sugar free pudding mix and 1% milk with good results
Directions
Bring 1 cup of milk to boil in medium sauce pan.
Stir in rice and raisins.
Cover pan.
Remove from heat.
Let stand for 5 minutes.
Meanwhile prepare pudding.
Beat pudding mix into remaining 2 cups of cold milk with whisk for 2 minutes.
Add rice mixture to pudding and stir.
Cover surface with plastic wrap.
Cool 5 minutes.
Stir.
Serve warm or chilled.
Reviews
Most Helpful
I had some coconut cream instant pudding and tried it with that as suggested. Omitted the raisins as I don't care for them in my rice pudding. This was ok, but for some reason didn't seem sweet enough. I may try it again using vanilla pudding. Made for 2008 All New Zaar Cookbooks Tag.

For my family, this was just OK - to us it tasted just like what it was..rice mixed with instant pudding. It gets one extra star for preparation ease, but I will keep my old-fashioned rice pudding recipe. Thanks for posting!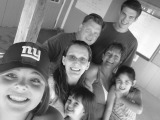 I actually made this tonight, is is so quick and easy, but I found that with one package of pudding it could have used more rice, I guess personal preference, so I boiled 2 more cups of milk and added in 1-3/4 instead of 2 cups of minute rice, then added it into the pudding mix, it was thicker with the added rice. If anyone is looking for a very quick and easy dessert recipe this is a great, thanks mandabears!...Kittencal:)