15 Minute Baked Halibut With Herbs
KateL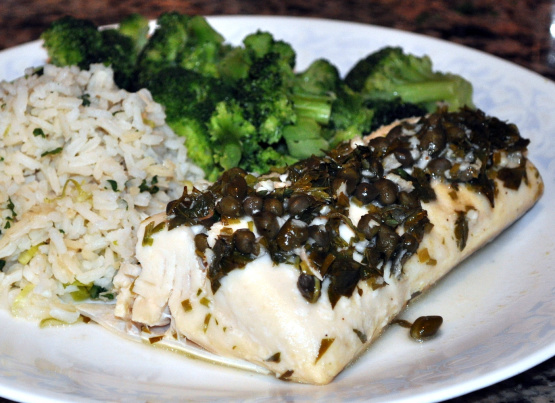 This halibut, which is baked in the oven, gives you an easy way to enjoy the delicious combination of flavors and healthy benefits of halibut and fresh herbs. It is a wonderful way to have a light sauce for your fish with a lot of flavor and minimal effort. This dish is so easy and simple that the key to its success is fresh ingredients. Dried herbs will not work for this recipe. From The Worlds Healthiest Foods. Hope you enjoy!

Top Review by KateL
We loved this, it packed a lot of flavor. In fact, DH wants to use this treatment on his freshly caught rockfish, which can also stand up to the capers. We have fish often, and this is a welcome change from our usual delicious Mrs. Dash Garlic 'n' Herb and Mrs. Dash Fiesta Lime seasoning with a smothering of butter to keep the fish moist. The fresh herbs make a huge difference, and we are worth it! Made for The Wild Bunch for ZWT8's visit in Britain.
Preheat oven to 450.
Place the fish in a baking dish just large enough to hold them.
Mix remaining ingredients well in a bowl and pour over fish.
Cover, and bake until done, about 15 minutes; don't overcook.
Check for doneness by inserting the tip of a knife into the center of the fish. Halibut should flake easily when done, yet still be moist.
Remove from heat just before it is done to your liking, as it will continue to cook.
Serve at once, pouring the pan juices over the fish.