100% Whole Wheat Burger/Hot Dog Buns
mayocum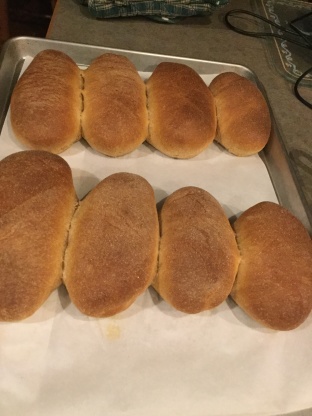 I found a recipe on the internet and substituted and added different ingredients to make a white hamburger bun recipe 100% whole wheat and healthy. I have been making them for years and my family and friends just love these buns! Never will I buy buns again! As with any bread machine recipe, add flour and/or water as needed. You can add other ingredients such as dried onion flakes, ground flax seed or whatever. Sometimes after cooling I wrap and freeze them and defrost as needed. I hope you will love this recipe as much as I do! Also, this recipe also makes great dinner rolls. Just divide dough into 12 to 24 balls, depending on the size of roll you want.

These buns deserve 10 stars!!!! I just made a batch of them, and they are hands down the most delicious rolls I have ever had in my entire life! I've never had whole wheat buns that were this soft, and the taste is superb. And, if that's not enough, they were a cinch to make. I will NEVER buy burger buns again. Thank you! 5/15/09 I have made these rolls a number of times already. If you don't like the taste of whole wheat, but want the added nutrition, I started making these with Bob's Red Mill White Whole Wheat Flour. No one can believe that they're whole wheat! Everything else I do exactly as the recipe says. They're absolutely amazing!
Place all ingredients in order according to your bread machine.
Select 'dough' cycle.
Allow cycle to run.
Dump out onto lightly floured surface. Divide into 8-10 pieces(I make 8 hamburger,10 hot dog).
Shape each piece into a hot dog or hamburger bun.
Place on greased cookie sheets (or bun pans), cover; let rise 30 to 40 minutes.
Bake in preheated 375 degree oven for 12 to 15 minutes until golden.
Cool on wire racks.