100% Whole Wheat Bread (Bread Machine)
Danube66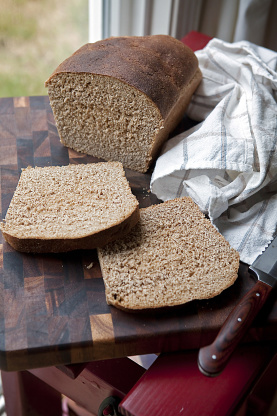 This recipe was included with my old Black and Decker bread machine. This bread is wonderful.

Top Review by ufoed
Good recipe. I replaced the margarine with canola oil and added 1 1/2 tsp cinnamon and 3/4 to a cup of raisins at the beep on my bread machine. Awesome cinnamon raisin bread, and even better when toasted.
Follow directions for your machine for a 2-pound loaf of whole wheat bread.
Instructions for my machine are: Add all ingredients in the order listed. (I combine the water and powdered milk and heat them in microwave on high for 30 seconds before putting in baking pan and then add the remaining ingredients.).
Insert the baking pan into the oven chamber and lock the pan.
Select Whole Wheat setting and 2 pound loaf.
Press start.
When the baking is finished, I like to put the loaf in a large zip lock bag and seal it. Then place on wire rack to cool completely before slicing.