100 Calorie No Bake Whey Protein Bar Cookies
mileen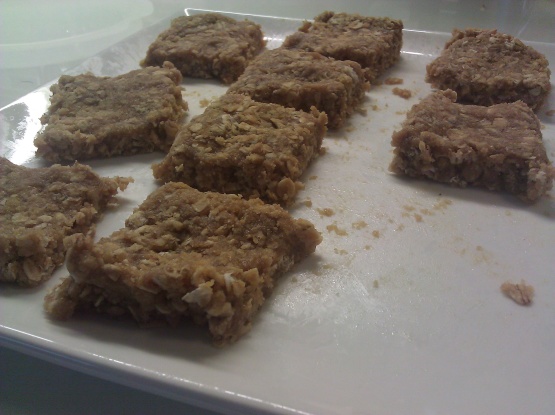 No bake oatmeal cookies made with Nitrean whey protein powder. Just under 100 calories per cookie and 4.6 grams protein.

Loved it! I've had a GIANT tub of chocolate protein powder lying around forever, and the fact that this entire batch was gone in about 8 hours suggests I have finally found the way I'm going to get rid of it all. My alterations: I replaced half the sugar with Splenda, left out the butter altogether, and used extra crunchy peanut butter instead of creamy (adding a bit more to make up for the peanuts). Mine ended up a bit sticky on the bottom even after the rest period, but not intolerably so.

Best practice is to make sure you're ready to add the oats before you mix in the protein powder -- it thickens VERY quickly (as one might expect), and there's not much time. For me, it was a quick one-two-three of adding the protein, oats, and rolling it out.
In a saucepan over medium heat, add the butter, milk, sugar, and molasses. Stir quickly until it bubbles up and then lower the heat.
Whisk in the peanut butter and protein powder, then remove from heat. Stir in oats last while the mixture is still hot.
Gently roll out onto a pan or plate, push down until about 1/2" thick. Let rest for 5 minutes and cut into squares.