From Betty Crocker's kitchen to your table in a flash!
Directions
Heat skillet or wok over med-high heat; add oil and rotate skillet to coat.
Add pork and stir fry 5 min or until no longer pink.
Gently break apart noodles; add to skillet along with water, seasoning packet, and remaining ingredients.
Heat to boiling; boil 3-4 minutes, stirring occasionally until noodles are softened.
Diet exchanges: 2 starch, 3 lean meat, 1/2 fat.
Reviews
Most Helpful
I am not sure what I did wrong, but this came out pretty awful. I followed the directions and it was so salty it was inedible. My DH has put me on a ban from making Chinese food because of this.....

i make this on a monthly basis substituting the pork for chicken. my family loves it, it's super easy, and believe it or not it tastes even better the second day!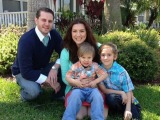 This is a great recipe. I love the simplicity and how good it tastes. I used chicken tenderloins, and oriental flavored soup packets. I'd eaten the noodles in other dishes so I used angel hair pasta. YUM