10-Minute Buffalo Shrimp With Blue Cheese Dip
bpowanda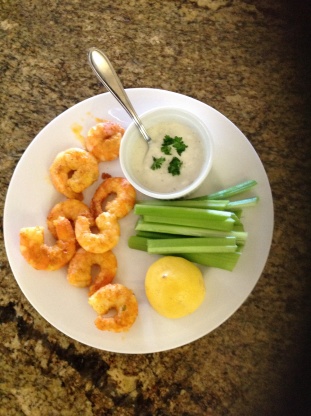 A new take on an old favorite - shrimp instead of wings. Cooks up even faster than wings and tastes incredible. Taken from the Redbook magazine.

These were pretty tasty and very easy. They are spicy, so watch out. The recipe for the blue cheese dip could be cut in half or even quartered and there would still be plenty for the amount of shrimp the recipe makes.
In a bowl, combine first six ingredients to make blue cheese dip; cover and refrigerate.
In a shallow bowl, combine flour, salt and cayenne pepper.
Add shrimp, tossing to coat.
In a large skillet, heat oil, butter and hot sauce.
Add shrimp and cook, stirring constantly until lightly browned, about 3 to 4 minutes.
Sprinkle blue cheese dip with parsley; serve with shrimp.
Serve with carrot and celery sticks on side if desired.