1 Spicy Sweet Honey Chili
1023460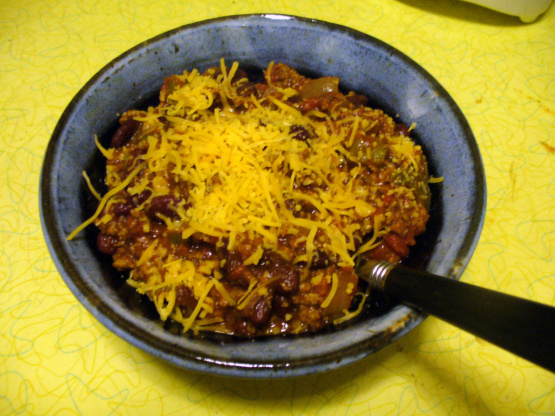 Sinfully sweet, tastefully spicy--so delicious I ate 4 bowls in less than 20 hours--2 for dinner then 2 for lunch the next day! Go on, try it. You'll love it up.

Top Review by avpfr
this is a great recipe , but I tweaked it a bit ,needed more beef flavor , I added about 6 beef bouillon cubes , and fresh cropped tomatoes . Also for great color - and flavor I added about a cup of corn , more or less to your taste . When I tell people there is cinnamon and honey in this chili they are intrigued
Crumble ground beef in large pan; add accent flavor enhancer (optional).
Brown ground beef.
Add onion, green pepper, and garlic.
Cook until onion is translucent/brown; drain oil.
Add tomatoes, jalapeño peppers, chili beans, chili powder, cumin, thyme, salt and cinnamon.
Stir and simmer on low for at least 25 minutes.
Add honey; stir again.
Serve alone, over rice, or spaghetti.
Serve with cheese & crackers is a must!
Oh--great with corn bread as well!