Boomette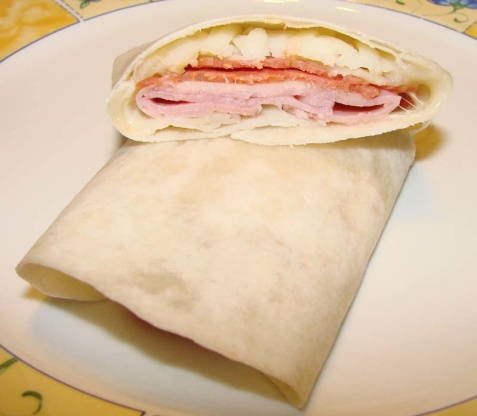 I created this recipe when I had a lot of leftovers in my fridge from making the full on baked stromboli. Yet, I was about to go to work and wanted something quick to snack on before leaving. Thus, this recipe was born. :)

Two thumbs up! Made with whole wheat tortillas. Unfortunately, there was no pepperoni on hand, but no one seemed to mind or know the difference. I would love to try this with salami, so maybe next time I will! Very versatile and easy to change up depending on what you have in the fridge. Plus, there are some great suggestions listed from other reviewers. Thanks, Megs..it was delish!
Layer onto the tortilla the ingredients in the order they are listed.
Roll up, face seam side down.
Microwave for 35 seconds on HIGH.
ENJOY!