1-Hour Smoky Ham and Lentil Soup
teresas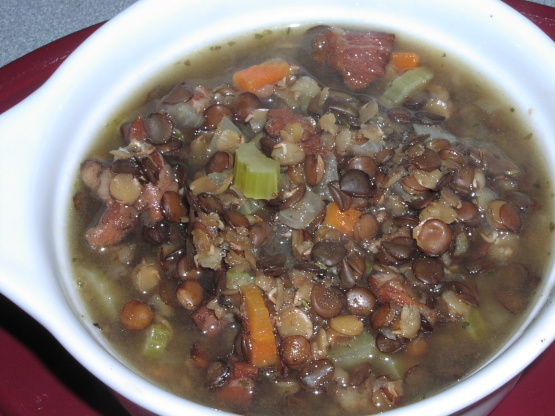 This soup is the best! My mom owns a catering business and her chef makes this for the cafe. Flavorful and hearty, even has a bit of a kick to it. Serve with warm crusty bread...a great meal on a fall/winter day.

This was excellent! I have been looking for a good lentil soup and have tried many different recipes. This is by far the best I have found. Instead of using ham boullion or ham soup base, I used low sodium chicken bouillion cubes. My picky husband even enjoyed this!
In a stock pot, combine lentils, ham, water and base/bouillon and bring to a boil.
Reduce heat; simmer until lentils are tender, about 30 minutes.
Add remaining ingredients; simmer until veggies are tender, about 20 minutes.
If you wish to puree: remove 3 cups of lentils, broth and veggies (keep diced ham in soup pot); puree, return to soup and stir.
For the crockpot: place all ingredients in a slow cooker and cook on LOW for about 10 hours; follow step #4 prior to serving.