Ms B.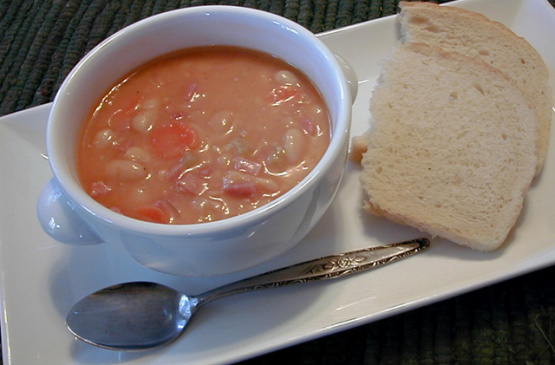 Made this one up myself, from a mix of different recipes. No need to wait for dry beans to soak. You get great homemade soup in about an hour!

Delicious! Ten stars, if there were such a category. I used chicken broth and a couple of leftover slices of black forest ham. I assumed it would end up like Campbell's bean and bacon soup, but was much better. When I open a can of tomato paste and just need a couple of tablespoons, I freeze the rest in 1 Tb. portions, so I just grabbed some of that out of the freezer instead of opening a can of tomato sauce.
Heat vegetable oil in a soup pot.
Add carrots, celery and onion.
Sauté for about 4 minutes, just until onion is beginning to soften.
Add ham, sauté 2 minutes.
Add garlic, sauté one more minute.
Add 3 cups stock, bring to a low boil for about 10 minutes, stirring once or twice.
Meanwhile, in a food processor, combine all but 1/2 of a can of beans, including juice, and the tomato sauce.
Process until smooth.
Add remaining stock to processor to thin mixture.
Process to combine.
Add mixture from processor into ham mixture.
Add remaining 1/2 can of beans, stir to blend, bring to a boil, lower heat, cover and simmer for 30 minutes.
Serve hot!