1-Gram Fat Pumpkin Spice Muffins (Low Fat)
DYUlam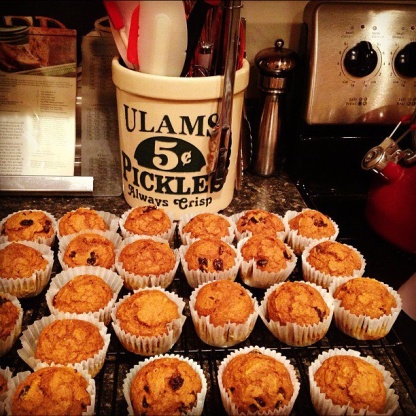 These muffins are a blessing for people restricted to low-fat foods, there is only about 1 gram of fat in each muffin, these muffins do not at all taste low-fat! This recipe will make 36 muffins, so just pop them into the freezer for a fat-free snack or for breakfast! If desired add in chopped nuts although that will add to the fat content, You can use egg beaters in place of eggs and white sugar in place of brown or use half of each.
Set oven to 350 degrees (set oven rack to second-lowest position).
Line three (12-cup) regular size muffin tins with paper liners, then spray the bottom of the paper liners with cooking spray.
In a large bowl mix together flour with brown sugar (or Splenda sugar if using) baking powder, baking soda, salt, nutmeg, cinnamon and cloves until well combined.
In another bowl whisk or beat on low speed of an electric mixer the eggs with pumpkin puree, applesauce and fat-free yogurt until smooth and well blended.
Stir in raisins until combined.
Evenly divide the batter between all the muffin tins.
Bake for about 30 minutes or until the muffins test done.