Balsamic vinegar has become all the rage in America, thanks to creative chefs at upscale restaurants. It is difficult to believe that this robust product of the vine has only come to be appreciated within the last two decades in America, when Italians have been enjoying it for centuries.
The rich, slightly sweet flavor of balsamic vinegar readily lends itself to vinaigrette dressings, gourmet sauces, and brings out the sweetness of fresh fruits such as raspberries, strawberries, and peaches.
Its flavor and complex fragrance is exalted over its lowly cousin, red wine vinegar, just as red wine vinegar leaps ahead of white vinegar. Before delving into a myriad of balsamic vinegar recipes, learn a little bit more about it and how to use it.
What is balsamic vinegar?
How does a lowly vinegar come to reap such praise? As far back as 900 years ago, vintners in the Modena, Italy region were making balsamic vinegar which was taken as a tonic and bestowed as a mark of favor to those of importance.
Although it is considered a wine vinegar, it is not a wine vinegar at all. It is not made from wine, but from grape pressings that have never been permitted to ferment into wine.
Sweet white Trebbiano grape pressings are boiled down to a dark syrup and then aged under rigid restrictions. The syrup is placed into oaken kegs, along with a vinegar "mother," and begins the aging process. Over the years it graduates to smaller and smaller kegs made of chestnut, cherrywood, ash, mulberry, and juniper until it is ready for sale. All of these woods progressively add character to the vinegar. As it ages, moisture evaporates out, further thickening the vinegar and concentrating the flavor.
Some balsamic vinegars have been aged for over 100 years. It is this aging process that makes true balsamic vinegar from Modena in Northern Italy so expensive. Luckily, a little balsamic vinegar goes a long way, much like saffron.
Storage of Balsamic Vinegar
Balsamic vinegar can be stored indefinitely in a closed container at room temperature. Although the color may darken slightly and solids may precipitate out, this is normal and does not indicate spoilage. To preserve the best flavor, store between 40 and 85 degrees Fahrenheit.
I found this useful information:
Balsamic vinegar has become one of the hottest food trends over the past twenty years, despite it being widely used in Italy for generations. With the increase in demand, lower grades and even imitations have begun to crop up. Use this guide to the varieties of balsamic vinegar to navigate grocery store shelves and know the products you're purchasing.
It's All in the Label
Small differences in the wording on the labels of balsamic vinegar can mean big differences between what is inside the bottle. There are three main grades of balsamic vinegar: traditional balsamic vinegar, commercial grade balsamic vinegar, and condiment grade balsamic vinegar. Several varieties may be available within each grade.
Traditional Balsamic Vinegar
Traditional balsamic vinegar may be labeled as "Aceto Balsamico Tradizionale di Reggio Emilia" or "Aceto Balsamico Tradizionale di Modena." Vinegars labeled with these names must be produced in either the regions of Modena or Reggio Emilia, Italy. The process by which these traditional vinegars is made takes years and produces an incredibly thick, glossy, flavorful product. Only Trebbiano or Lambrusco grapes are used to make this type of balsamic vinegar. The juice from these grapes is aged in wooden barrels for 12 to 18 years to develop its unique flavor. Traditional balsamic vinegars are the highest grade available and carry the largest price tag.
Commercial Grade Balsamic Vinegar
Commercial grade balsamic vinegars are mass produced and aged for a minimum amount of time, if at all. These vinegars are made from wine vinegar and often have caramel coloring, thickeners, and flavor added. Commercial grade balsamic vinegars may be labeled simply as "Balsamic Vinegar of Modena" if they are, in fact, produced in that region. Domestic vinegars made in the United States or in other regions can not carry the Modena name. These vinegars still have a uniquely sweet and sour flavor and are perfectly suitable for salad dressings, marinades, and sauces.
Condiment Grade Balsamic Vinegar
This label is given to a variety of balsamic vinegars that don't quite fit the stringent requirements to be called Traditional Balsamic Vinegar, but have more time and care taken than commercial grades. For instance, vinegars made using the same techniques as Traditional Balsamic Vinegar of Modena, but produced outside of that region may be labeled as a condiment grade balsamic vinegar. Vinegars that are made by the traditional standards and within the designated regions of Italy, but aged for fewer than 12 years are also considered condiment grade. Condiment grade balsamic vinegars may carry the labels "Balsamic Vinegar of Modena PGI," "condimento balsamico," "salsa balsamica," or "salsa di mosto cotto." These vinegars provide a depth of flavor similar to traditional balsamic vinegar, but at a more reasonable price tag.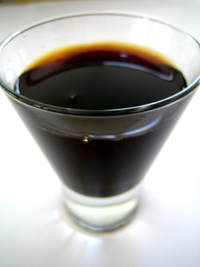 Health benefits of balsamic vinegar
Vinegars have been used for thousands of years for their astringent and disinfectant properties as well as being used as a preservative and flavoring in prepared food. Balsamic vinegar, however, has a wealth of benefits beyond those early uses of vinegar.
In historical texts balsamic vinegar was said to be a miracle cure. It is believed that the word originated from the Italian word for balm, meaning an aromatic resin as well as a soothing and healing agent. Balsamic vinegar was used to treat everything from a mild headache to labor pains. It's antibacterial and antiviral properties make it ideal for disinfecting wounds and infections. A tonic mixture of balsamic can be used on nail infections and even acne!
Antioxidants
Polyphenol is an antioxidant found in grapes and is therefore present in balsamic vinegar. Antioxidants improve the immune system and they guard against harmful free radicals which can damage cells in the body. Balsamic vinegar can also help protect against heart disease and cancer thanks to these antioxidants. Another element found in balsamic vinegar is a bioflovanoid, called quercetin, which also has antioxidant properties and helps fight immunity deficiencies.
Digestion and Maintaining a Healthy Weight
Balsamic vinegar can suppress appetite and also increases the amount of time it takes for the stomach to empty. This helps prevent overeating and ensures the body will digest food properly. Balsamic vinegar is a rich source of potassium, manganese, calcium and iron. These minerals are vital for the body's functioning and contribute to the maintaining of a healthy body weight. The acetic acid present in balsamic vinegar helps to absorb these and other minerals into the body and can improve calcium intake to help strengthen bone. Balsamic vinegar is low in fat, cholesterol, and sodium making it a healthy alternative for dressings and marinades. Compared to a mayonnaise based dressing balsamic vinegar can have a fifth of the calories for the same size serving. Some studies have shown that balsamic vinegar can reduce appetite and prevent frequent hunger pangs.
Diabetes
Balsamic vinegar improves insulin sensitivity which promotes blood sugar regulation. This can often reduce unpleasant side effects associated with diabetes. The polyphenols in balsamic vinegar also boost the effect of pepsin which is an enzyme that breaks protein into smaller amino acids. This means that the amino acids are more easily absorbed into the body improving metabolism.
Bone Health
Pepsin and acetic acid both help improve absorption of crucial minerals into the body such as calcium and magnesium. Both of this minerals are abundant in balsamic vinegar and are vital for healthy and strong bones.
Balsamic Nectar is a high quality balsamic vinegar aged up to 15 years but is also three times more concentrated then your everyday commercial balsamic vinegar. This means that all of the above compounds are concentrated along with it and thus you get more health benefits per serving!
There are many, many flavored balsamic vinegars, from raspberry to coffee to pomagranate to honey ginger. There is also white balsamic vinegar. Explore the world of balsamic vinegar!
Tips for using balsamic vinegar:
When using balsamic vinegar, do not use aluminum pots or containers. The pan or marination container should be non-reactive.
• Balsamic vinegars are not recommended for pickling or herb infusion purposes.
• Check the label if you are allergic to sulfites. Not all balsamic vinegars have sulfites, but many less expensive choices do.
• Heat sweetens balsamic vinegar and boils out acidity. If you want to mellow out the flavor, heat it. If not, use it without heat or add at the very end of the cooking process.
• A teaspoon or two of balsamic vinegar can wake up the flavor in a bland soup, stew, or sauce.
• If you must, substitute sherry vinegar or red wine vinegar for balsamico. It won't be the same, but it will give you a hint on how good it could be if you used balsamic vinegar.
• A sprinkle of balsamic vinegar on fresh sliced strawberries or raspberries with a bit of sugar really brings out the flavor of the fruit and will have you addicted.
Ideas for serving Balsamic Vinegar:
Cream-flavored gelato
Fresh figs
Fresh or grilled vegetables
Grilled or boiled meats
Panna Cotta
Parmigianl Reggiano cheese
Pineapple
Shellfish (shrimp, scallops, lobster)
Strawberries
Vegetable or pasta salads
Salads and Salad vinaigrettes
Here are some recipes using balsamic vinegar:
Baked Balsamic Chicken
Sheila's Best Balsamic Dressing
Seared Salmon With Balsamic Glaze
Balsamic Asparagus
Strawberries With Balsamic Vinegar
Roasted Beets With Honey Balsamic Glaze
Balsamic Chicken and Mushrooms
Garlic Chicken Breasts in Balsamic Vinegar
Garlic-Roasted Broccoli Drizzled With Balsamic Vinegar
Mediterranean Balsamic Mushrooms
Balsamic Marinated Tomato and Mozzarella Salad
Carrots Glazed With Balsamic Vinegar and Butter
Balsamic Honey Mustard Dressing
Braised Balsamic Chicken With Garlic and Onions
Potato and Green Bean Salad With Balsamic Vinaigrette
Filet Mignon With Goat Cheese and Balsamic Reduction
Balsamic Chard
Balsamic Rib-Eye Steak With Bleu Cheese Sauce
Do you love balsamic vinegar? Please share some of your favorite balsamic recipes!