Your stove is an expensive appliance. Yours might be fine for canning on, or it might not. It would be a shame to cause damage by using it as it wasn't meant to be.
One should follow manufacturer's advice because styles of smooth cooktops being manufactured differ in ways that influence suitability for canning. Some smooth cooktop manufacturers say do not can on them, while others who say it is okay still put stipulations on the diameter of the canner compared to the diameter of the burner. Boiling water or pressure canners may not be available that meet the maximum diameter pot they allow.
There are several issues:
1. There can be damage to the cooktop from the excessive heat that reflects back down on the surface, especially if the canners used are too large of a diameter than is intended for the burner being used. The damage can range from discoloration of white tops to actual burner damage to cracking of the glass tops to fusion of the metal to the glass top.
And by the way, even if a manufacturer says a burner/cooktop can be used for canning, people should also be aware the scratching can occur if the aluminum canner is slid or pulled across the cooktop. This often happens with large, heavy filled canners, so people need to be careful.
2. Many of these cooktops have automatic cut-offs on their burners when heat gets excessive. If that option is built in, and the burner under a canner shuts off during the process time, then the product will be under-processed and cannot be salvaged as a canned food. The process time must be continuous at the intended temperature, or microorganisms may survive. Also, if the pressure drops quickly, most likely liquid and maybe even food will be lost from the jar (it will spill over from the area of higher pressure inside the jar to the lower pressure now in the canner around the jar).
3. Even if boiling water canning is approved by the manufacturer, it may be necessary to fashion your own canner out of a flat-bottomed stockpot with a bottom rack inserted. Many canners do not have flat enough bottoms to work well on a smooth cooktop to be able to maintain a full boil over the tops of the jars. The pot used as a canner must also be large enough to have lots of water boiling freely around the jars, and at least 1 inch over the tops of jars. If the canner is too small, then it starts boiling faster than expected and the total required heat the jars receive in the canner even before the process time begins can be too short.
NCHFP's recommendation, therefore, is to contact the manufacturer of your smooth cooktop before making your decision to can (or not) on it. They are the recommended source of this information and may also have up-to-date alternatives or suggestions for equipment that you can use. We also caution that you might have to be sure they understand how large your boiling water or pressure canner is, how long it must be heated at high heat, how long the hot canner may stay on the burner until it cools after the process time, and that the canner is made from aluminum (if it is).
Reviewed June 2011
National Center for Home Food Preservation
All-American Pressure Canners says: "All-American pressure canners are NOT recommended for canning on smooth/glass top stoves because their weight may cause the glass/ceramic to break. The diameter of the canners are larger than most burners and may cause heat to transfer outwards and damage the surrounding surface."
http://www.allamericancanner.com/allamericanpressurecanner.htm
If it turns out that your stove isn't suitable to can on and you still wish to preserve your own food, one suggestion is to invest in a second-hand gas stove and set it up either outdoors or in the garage.
Another alternative is use an outdoor propane burner to pressure can with. A caveat: make sure that your stand is sturdy enough to hold all the weight. Four-legged burners are much sturdier than a three-legged ones. For propane burners, look for ones that have several burner 'rings' that can be individually controlled for lowering temperatures. Its important to get a burner that can offer a very low simmer setting, for after the pressure canner gauge comes up to the right pressure.
These cooking stands can be sourced at Dick's Sporting Goods, Cabela's, Tractor Supply and other outdoor living venues.
Another suggestion is to build your own
HOMEMADE OUTDOOR CANNING STOVE
(link)
One can also purchase a hot plate at restaurant supply stores or online at suppliers such as Ace Mart for around $100: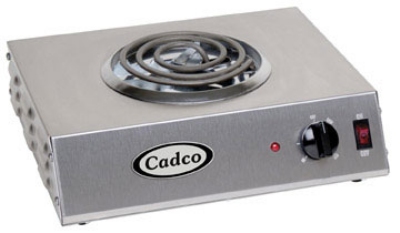 This beautiful lady switched to outside propane canning just this year, and says she will never go back! She says, "I bought a Camp Chef 2 burner stove- very sturdy 4 legged model that hooks up to a 5 gl. propane tank. I have a covered but open concrete floor porch just off my kitchen, so it works great. With a sturdy table set up beside the stove, and a chair, and a good book, I can can for hours. The only thing I would do differently, were I to buy the stove today, is to buy a 3 burner model (they make them!) That way I can be cooking my jam, heating my jars, and heating the lids all separately. But it works with 2 burners, just have to put the lids in the hot water as the jars come out to be filled. I do both BWB and pressure canning on this stove- much more control than my pitiful electric stove in the kitchen."
You'll want to put a little thought into outdoor canning. As with any project, preparation is key.
Here are some of the things that an experienced outdoor canner did to make outdoor canning an efficient proposition:
"Water: I needed access to water. It didn't need to be heated, I could get that indoors, but I did need something for washing up, filling pots, and cleaning knives. So I ran the outdoor garden hose around the side of the house and attached it to a table that held a large, enameled washbasin. The end of the hose had an on/off knob and rested in the bottom of the filled washbasin.

Table space: For my workstation, I used sawhorses with a sheet of plywood as a table. I covered the top with a sheet of plastic and fastened it securely. It was important to cover with plastic since this table would be washed frequently.

I then set up a large propane cook station that has two burners. I was going to be canning with five people and that meant a lot of jars, so two burners were necessary. My indoor stove would be set up for sterilizing lids and heating the syrup. On the day we canned, there was a slight breeze—great to keep the flies away, but it also would gust and blow out the burner flame. To prevent this I set up a large sheet of plywood (left over from a remodeling project) between the burner and the oncoming wind. It kept the wind off the flame and we had no problems keeping the burner going.

Propane: Because I was using a two-burner propane unit that would run almost all day long, my husband retrofitted each burner to run off a separate tank of propane. I found that having two burners running off one line of propane was not providing enough gas for either burner to get a good high heat. Also, I made sure to have at least one full tank of propane in reserve. You can really go through the propane when you're canning all day."
A two-burner outdoor propane stove is ideal for outdoor canning. This particular one was retrofitted to hook up one propane tank for each burner.
If someone in your household is handy, they can assemble an outdoor canning stove. See
THIS THREAD
(link) for more information.
Courtesy of
Backwoods Home
, All-American Pressure Canners and the National Center for Home Food Preservation
A terrific, comprehensive website to visit is
http://nchfp.uga.edu/
They have hundreds of laboratory-tested recipes written with clear, concise directions.
If you don't know how to can and would like to learn, an online class is offered here:
Announcing a free, self-paced, online course for those wanting to learn more about home canning and preservation.
•Introduction to Food Preservation
•General Canning
•Canning Acid Foods
•Canning Low-Acid Foods
This course is offered in the University of Georgia eLC system. UGA requires
REGISTRATION
(link) for you to receive a login.