xxxxxxxxxx
Christmas, as it is celebrated in Italy, has two origins: the familiar traditions of Christianity blended with the pagan traditions predating the Christmas era.
The greatest feast of the ancient Roman Empire, Saturnalia became one of the most popular Roman festivals. It was marked by tomfoolery and reversal of social roles, in which slaves and masters would switch places with masters serving their slaves. Schools and courts were closed, and the whole community would give itself up to feasting, gambling and drinking. It was also a time for exchanging gifts, particularly of wax candles (also known as cerei) and earthenware figurines known as sigillaria.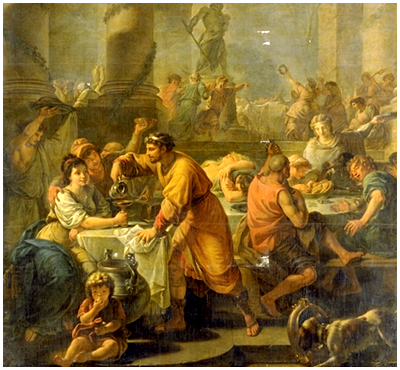 Saturnalia just happens to coincide with the Christmas celebrations of the Advent. Consequently, Christmas fairs, merry-making and torch processions, honor not only the birth of Christ, but also the birth of the "Unconquered Sun." "Natale," the Italian word for Christmas, is literally the translation for "birthday."
A delightful, but rapidly disappearing tradition in Italy, is the ushering in of the coming festivities by the piferari (pipers) or zampognari. They descend from the mountains of the Abruzzo and Latium playing inviting and characteristic tunes on their bagpipes, filling the air with anticipation for the joyous celebration to come.
Italy never adopted the Christmas tree as a symbol of the Christmas season. The Nativity set or creche is the focal point of the Italian Christmas celebration. The creche display denotes the true meaning of Christmas.
Christmas Eve is a time for viewing Italy's artistic and elaborate manger scenes/creches. They consist of figurines, in clay or plaster , of the infant Jesus, Mary and Joseph. An ox and ass are nearby because legend has it that they warmed the child with their breath. It is around this basic focal point that individual artisans create their own intricate landscapes. There may be grottoes, small trees, lakes, rivers, the lights of "Bethlehem" in the background, angels hung from wires, and occasionally, even local heroes. The most beautiful Cribs are set up in churches. There is often a contest between churches of the same town for the best Crib. People go from church to church to view and compare the Cribs and displays.
Precepe figurines:
Another tradition is the burning of the Yule log, which must stay alight until New Year's Day. This, again, is an example of pagan and Christian blending. The pagan belief explains the purifying and revitalizing power of fire, and that with the burning log, the old year and its evils are destroyed. Christian legend tells how the Virgin Mary enters the homes of the humble at midnight while the people are away at Midnight Mass and warms her newborn child before the blazing log.
Amidst the general merrymaking and religious observance of Christmas Eve, Christmas tapers (long slender candles) are lighted and a Christmas banquet is spread. On Christmas Eve, Italians across the world celebrate the coming birth of Jesus Christ with the Feast of the Seven Fishes. Because Catholics traditionally do not eat meat on important holidays, fish is usually the protein source. The number seven might represent several things:
•Seven days of creation
•Seven is the number of perfection in the Bible
•Seven deadly sins
•Seven is the number of sacraments in the Catholic Church
The number itself is often subject to change, too, depending on whom you ask. Three (for the three Wise Men or Trinity) to upwards of 13 (Jesus plus 12 disciples) dishes featuring fish are commonly eaten in Italian households on Christmas Eve.
One of the fish dishes served on almost every table is baccala, a dried fish that takes a few days to prepare. Eel, considered a delicacy by many Italians, often makes the list of fish dishes, too. Other options might include:
•Calamari
•Shrimp
•Lobster
•Smelts
•Sole
•Scallops
•Octopus
•Crab
•Mussels
•Oysters
xxxxxxxxxxxxxxx
Capitone
(eels) on Christmas eve is a tradition common to various regions, Friuli, Veneto, Comacchio in Emilia Romagna, Naples and Apulia. It is fried in Naples, grilled, baked or stewed in other places. North of Rome a traditional dish may be pork, sausage packed in a pig's leg, smothered in lentils, or turkey stuffed with chestnuts.
Traditional Dishes From Italy...
Zuppa Di Pesce, Cioppino, or Fish Stew
Loaves & Fishes Fish Salad
Christmas Eve Baccala (Salt Cod With Potatoes & Tomatoes)
Tagliatelle With Caramelized Oranges and Almonds
Cipolline in Agrodolce
Dressed up Italian Green Beans
Roasted Lemon- Zest Zucchini With Pine Nuts
Common throughout Italy are the Christmas sweets:
Cenci--Italian Bow Ties
,
Grandma Helen's Struffoli
,
Steve's Panettone for Bread Machine
(cake filled with candied fruit),
Torrone
(nougat),
Marzipan
,
Candied Almonds
,
Spumetti (Chocolate-Hazelnut Meringues)
,
Roast Chestnuts
and
Italian Chocolate and Nut Cake (Panforte)
made with hazelnuts, honey and almonds. All Christmas sweets, as a rule, contain nuts and/or almonds. Peasant folklore theorizes that to eat nuts favors the fertility of the earth and aids in the increase of flocks and family. In ancient Rome, honey was offered at this time of year so that the new year might be sweet.
Another famous cake is pandoro which originated from Verona.
xxxxxxxxxx
Of Special Note...
Befana, is a legendary female gift giver known to Italian children for almost two thousand years. She was active at Christmas time and made her visit on the Twelfth Night or Epiphany.
The story is told that Befana, a very old and decrepit woman, refused to interrupt her household duties long enough to accept the invitation of the Magi to accompany them on their journey to find the Christchild.
It seems the Magi needed a guide in their search and asked Befana to help them find the way; but she refused to leave her warm and immaculate house of which she was very proud.
However, after the Magi had left, Befana had a change of heart and at dawn went in search of the Wisemen. She had prepared a basket of food for the journey and added toys and gifts for the Christ Child. Search and inquire as she might, she was unable to find the Wisemen; so, she distributed her gifts along the way.
As years passed the story grew and Befana now resembles a witch with a broom to fly and visit on Epiphany. In addition to her basket of goodies she also carried a cane and a bell. The cane was to help her on the way and the bell was to warn the children of her coming. Children were warned to be good so that she would leave them gifts and not switches. When the bell rang, the children were hurried off to bed to be asleep before Befana comes.
In Italy, Epiphany is also called Befana Day. It is a day of feasting and celebration as well as gift giving and fairs are held in Rome and rural areas in honor of Befana Day.
On Christmas Eve, Italian children set out their shoes for the Befana, to fill with gifts of all kinds like toys, candies and fruit. The children wait until Epiphany, January 6, for their presents. According to tradition, the presents are delivered by a kind ugly witch called Befana on a broomstick. If the children were good, their shoes would be filled on Christmas morning. If they were bad, they would find their shoes filled with coal.
xxxxxxxxxxxxxxx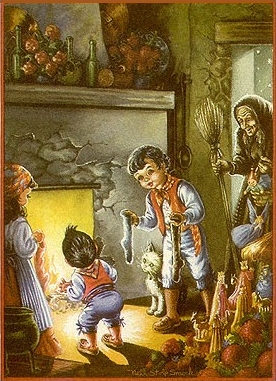 The Christmas season in Italy goes for three weeks, starting 8 days before Christmas known as the Novena. During this period, children go from house to house reciting Christmas poems and singing.
In some parts shepherds bring musical instruments into the villages, play and sing Christmas songs.
In the week before Christmas children go from house to house dressed as shepherds, playing pipes, singing and reciting Christmas poems. They are given money to buy presents.
A strict feast is observed for 24 hours before Christmas Eve, and is followed by a celebration meal, in which a light Milanese cake called panettone features as well as chocolate.
On christmas Eve the dinner is called cenone which is a traditional dish of eel.
Presents and empty boxes, are drawn from the Urn of Fate - lucky dip, which always contains one gift per person. By twilight, candles are lighted around the family creche known as the Presepio, prayers are said, and children recite poems.
At noon on Christmas Day the pope gives his blessing to crowds gathered in the huge Vatican square.
Christmas lunch is Tortellini in Brodo which is filled pasta parcels in broth, also served is cappone which is boiled capon, or roasts are served in central Italy.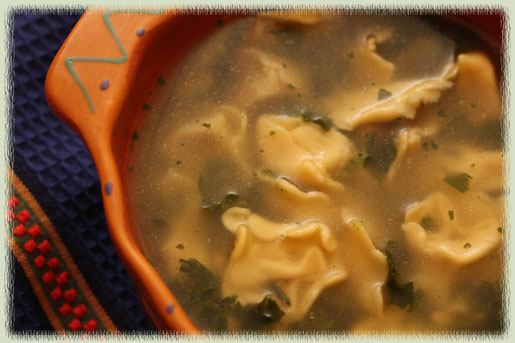 Please feel free to share stories, suggest recipes or to post photos!