ZWT8 ~ Go Wild Challenge ~ Australia/New Zealand
Go to page << Previous Page 1, 2, 3, 4, 5, 6
**Jubes**
Mon Aug 13, 2012 3:32 am

Forum Host
Boomette wrote:
My little artist is my son and he is 6 years and a half. He likes anything that comes from New Zealand. Mostly since he saw the group Whitireia Performing Arts at the Mondial des Cultures (folkrore festival).
I asked him to draw only 1 page. But he had to draw 2. He's so perfectionist in almost everything. When he was coloring the pages, he was not satisfied because he went over the line. So he cut it with scissor to make it perfect.
He chose the rainbow lorikeet. We didn't know this bird. It's full of colour. It has intense colours with patches of emerald green, orange midnight blue, dull blue, ruby red, lemon yellow, purple, violet greenish grey.
It's a species of parrot found in Australia, eastern Indonesia (Maluku and Western New Guinea), Papua New Guinea, New Caledonia, Solomon Islands and Vanuatu. Its habitat is rainforest, coastal bush and woodland areas.
Rainbow Lorikeets feed mainly on fruit, pollen and nectar, and possess a tongue adapted especially for their particular diet.
This is the photo with him and his 2 drawing :
Thanks Boomette. Beautiful artwork and two of them as well !
Rainbow Lorikeets really are pretty birds.
**Jubes**
Mon Aug 13, 2012 3:33 am

Forum Host
Starrynews wrote:
For the Fearless, my 7 year old niece Chloe contributes a kangaroo:
We flipped through a magazine article about Australian wildlife with lots of pictures, but Chloe said she definitely wanted something cute, none of those lizards or bugs!! She explained to me that she chose the kangaroo because it loves to jump, and sometimes there is a surprise - a baby called a joey - in the mommy kangaroo's pouch on her tummy, which is very cute. Chloe loves hopscotch, so she was impressed by the kangaroos leaping. She used colored pencils as her medium.
Kangaroos like to graze on grasses and shrubs and live in groups referred to as mobs, which provide protection for weaker members. Roos live in Australia and use hopping as their principal way to travel, although they are also good swimmers.
Great kangaroo Chloe
!
**Jubes**
Mon Aug 13, 2012 3:35 am

Forum Host
AZPARZYCH wrote:
I enlisted the help of both DSs for this challenge...
Kaiden (3 yrs) chose to color the Koala since that is the only animal that he recognized...I was very impressed with his coloring; usually he does a couple scribbles on a paper and then says I am done! He actually took his time to color the entire picture.
Koalas are actually not bears, but marsupials. Their young are born early at about 2 cms long, they are blind, furless and their ears are not developed. They then move into their mothers' pouch and live for 6-7 months consuming only milk.
There are over 600 species of eucalypts but koalas only eat certain ones. So depending on where the eucalypts live determines the type of koalas found there. Different species of eucalypts grow in different parts of Australia, so a koala in Victoria would have a very different diet from one in Queensland.
Joshua (6 yrs) chose the platypus and colored it blue to resemble Perry the Platypus from his favorite Disney show Phineas and Ferb.
The platypus is found in eastern Australia. They live aside freshwater rivers or lakes, and create burrows for shelter and protection. When swimming the platypus has its eyes shut. They swim underwater for 2 minutes, before returning to the surface for oxygen. They can however stay underwater for up to 10 minutes, and due to their natural buoyancy, they need to be underneath another object to do this.
Platypuses feed on insect larvae, worms or other freshwater insects. They do so mainly at night, by the use of their bill. They turn up mud on the bottom of the lake or river, and with the help of their electroreceptors located on the bill, find many insects and freshwater insects. They store their findings in special pouches behind their bill, and are consumed upon returning to the surface.
Platypuses can consume their own body weight in food in a 24 hour period!
Amazing Fact: The male platypus has venom strong enough to can kill a small dog, or cause excruciating pain among humans.
Beautiful colouring and smiles from both of your sons Azparzych
**Jubes**
Mon Aug 13, 2012 3:36 am

Forum Host
Lavender Lynn wrote:
This is for the Go Wild Challenge. My artists' name is Aaron and he is 15 years old. He is the youngest child of my best friend.
Aaron has always liked the platypus because of its unusual appearance. It is a duck-billed, beaver-tailed, and otter-footed venomous mammal. Aaron wants to go to school at Oregon State University whose mascot is the beaver. The rival college here in Oregon is the Univeristy of Oregon Ducks, and we have wonderful river otters here in Oregon. In previous years in school, Aaron has made a platypus out of clay, and done various reports on the platypus.
The biggest threat to the Platypus is the loss of Habitat, as man clears land and pollutes the waterways.
Natural enemies of the platypus includes, snakes, water rats, goannas, and foxes (that were introduced). The platypus lives a solitary life in and around fresh water spending about 12 hours a day swimming and searching for food in the water. They have voracious appetites and can eat their own body weight in food in one night! The platypus likes to eat worms, slugs, shrimp, larvae, eggs and yappies. The platypus can remain submerged up to 2 or 3 minutes at a time. Since its nostrils are on top of its bill, it can breath as it swims on top of the water.
Thankyou Lynn and Aaron
**Jubes**
Mon Aug 13, 2012 3:39 am

Forum Host
Nif wrote: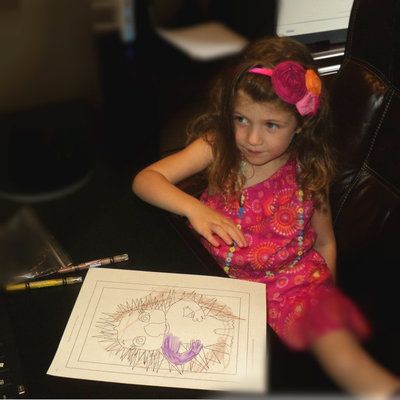 This is my 4 year old niece, Giuliana, and she is seen here colouring for the Chefs Gone Wild. Well, at least I tried to get her to colour! This photo was taken at the first baby shower that she ever attended and the last thing she wanted to do was be stuck in an office with Auntie Nif!
I got her to sit down after I promised to colour with her so the slightly coloured purple arm is my artwork!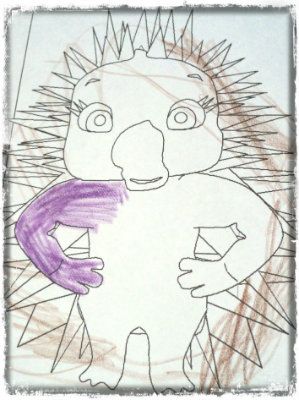 This is an echinda (Echidna hystrix).

The Echidna (or affectionately known as the Spiny Anteater) is a primitive mammal. It lives in both Australia and New Guinea. It is a solitary animal that burrows. When it is attacked, the echidna will burrow into the ground or curl itself into a ball using its spines as a method of defence against the predator. The echidna's spines cover the top of its body.

Echidna's have long sharp claws on their feet, and are approximately 35-50 cm (14 - 20 inches) long with a 10 cm (4 inch) long tail. Their nose is very sensitive, they use this to find food, then they use their long sticky tongue to catch ants, worms and other such insects. Echidna's weigh on average between 2 to 7 kilograms (4.5 to 15.5 pounds).

Female echidna's lay a single egg in their pouch. After ten days, the egg hatches and a puggle (baby echidna) is born. They are born blind and hairless, and consume milk from a gland within the pouch. After an average of four weeks, the puggle develops sharp spines, and must leave the pouch. Ouch!

This is a photo of a real echidna.
Thankyou Nif and Giuliana
**Jubes**
Mon Aug 13, 2012 3:43 am

Forum Host
Nancy's Pantry wrote:
[url]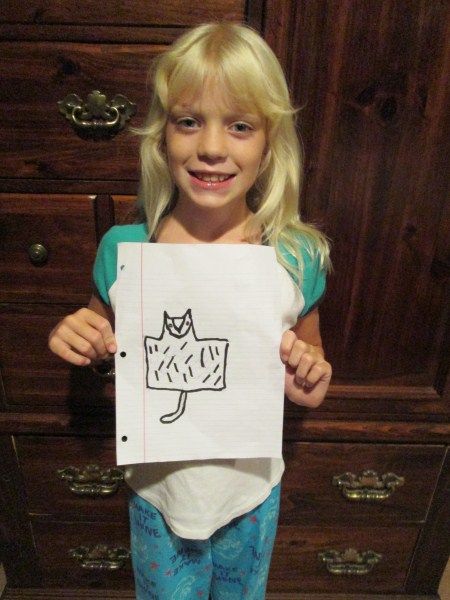 [/url]
My granddaughter chose a Sugar Glider for her picture. The Sugar Glider is native to Australia and is approx. 6-7 inches long. It eats fruit, vegetables, and bread. It does not lay eggs and it lives in the forest. The Sugar Glider has sharp claws and does not see well in the dark.
We enjoyed this challenge.
Nancy
Thankyou Nancy and to your granddaughter. Great drawing of a sugar glider
They are a tiny possum and they are amazing gliding in the trees
**Jubes**
Mon Aug 13, 2012 3:44 am

Forum Host
KateL wrote:

KateL of the Wild Bunch presents the Platypus by Dylan T, a 10-year-old boy who lives across the street. Dylan loves to draw freehand, and is excited to learn more about the platypus.
Here is Dylan's artwork:
As for the platypus:
The platypus is a semi-aquatic mammal from eastern Australia, including Tasmania. It is about the size of a house-cat with fur thicker than a polar bear's.
The platypus is among nature's most unlikely animals, the first scientists to examine a specimen believed they were the victims of a hoax. They are best described as a hodgepodge of the duck (bill and webbed feet), beaver (tail), and otter (body and fur). Platypuses hunt underwater, where they swim gracefully by paddling with their front webbed feet and steering with their hind feet and beaverlike tail. On land, platypuses move a bit more awkwardly. However, the webbing on their feet retracts to expose individual nails and allow them to run. Platypus are one of only two mammals that lay eggs. It is one of the few venomous mammals, the male having a spur on the hind foot that delivers a venom capable of causing severe pain to humans.
Thanks KateL and Dylan. Thats a terrific drawing Dylan
**Jubes**
Mon Aug 13, 2012 3:46 am

Forum Host
HokiesMom wrote:
Last minute entry here but still on time. My DS who is almost 16 agreed with much arm twisting to help his mama out tonight!
You can only imagine his face when I asked for this favor.
Now you have to realize that one I don't think he has colored a picture in ages - he has a bit of a crazy attitude going so he thought it would be fun to make this Taz a bit colorful and ad lib some things like the blue grass saying his Taz would be jammin' to some tunes! He would not agree to have a photo with holding the artwork but I've added his picture from a week ago just for fun so you know what I'm dealing with here. He is holding my new grandson (no not his child!!) so you can see he really is a sweet teenager.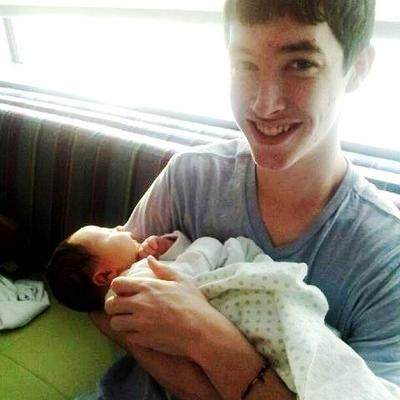 He chose to color a picture of the Tasmanian Devil
Type:Mammal
Diet: Carnivore
Average life span in the wild: Up to 5 years
Size: 20 to 31 in (51 to 79 cm)
Weight: 9 to 26 lbs (4 to 12 kg)
Protection status: Endangered
Did you know? When confronted, a Tasmanian devil will often yawn at its tormentor as if pretending to be unbothered by the threat.
Tasmanian devils have a notoriously cantankerous disposition and will fly into a maniacal rage when threatened by a predator, fighting for a mate, or defending a meal. Early European settlers dubbed it a "devil" after witnessing such displays, which include teeth-baring, lunging, and an array of spine-chilling guttural growls. Tasmanian devils are strictly carnivorous, surviving on small prey such as snakes, birds, fish, and insects and frequently feasting communally on carrion. They are at their most rowdy when jockeying for position on a large carcass. Like other marsupials, when they are well fed, their tails swell with stored fat. Devils are solitary and nocturnal, spending their days alone in hollow logs, caves, or burrows, and emerging at night to feed. They use their long whiskers and excellent sense of smell and sight to avoid predators and locate prey and carrion. They'll eat pretty much anything they can get their teeth on, and when they do find food, they are voracious, consuming everything—including hair, organs, and bones.
Tragically, though, a catastrophic illness discovered in the mid-1990s has killed tens of thousands of Tasmanian devils. Called devil facial tumor disease (DFTD), this rapidly spreading condition is a rare contagious cancer that causes large lumps to form around the animal's mouth and head, making it hard for it to eat. The animal eventually starves to death. Animal health experts are sequestering populations where the disease has not yet appeared and are focusing on captive breeding programs to save the species from extinction. Because of the outbreak, the Australian government has listed Tasmanian devils as vulnerable.
Thanks HokiesMom and to your son. I love it....a Tassie Devil with attitude
**Jubes**
Mon Aug 13, 2012 3:49 am

Forum Host
Muffin Goddess wrote:
I apologize for the awful appearance of this entry -- the original person who was supposed to post this kind of bagged on us with no warning
, and so this is a team effort (Jubes, zmail will be sent shortly
). I'll try to edit for more order after I post, so I don't miss the deadline. Thanks

EDITED SO ENTRY DOESN'T APPEAR SO AWFUL
I don't have access to any children so FloridaNative's talented 13 year old daughter has drawn a picture of a kangaroo for me to submit..
Kangaroos are marsupials which are an infraclass of mammals living primarily in the Southern Hemisphere most of which give birth to relatively undeveloped young. They are characterized with large, powerful hind legs, large feet adapted for leaping, a long muscular tail for balance, and a small head. Like most marsupials, female kangaroos have a pouch called a marsupium in which joeys complete postnatal development. The kangaroo is a national symbol of Australia: its emblem is used on the Australian coat of arms, on some of its currency, as well as by some
of Australia's well known organisations, including Qantas.
Just because so much effort has been put into this challenge entry by multiple members of our team, I wanted to add this, too:
Kangaroos have big back legs with long feet.
They move by hopping on their back legs.
They eat grass.
Some kinds of kangaroo live in hot, dry places.
Some kinds live in grasslands.
What do you call a Kangaroo?
A male kangaroo is called a buck, boomer, jack or old man. A female is a doe, flyer or jill. A young kangaroo is a joey (all marsupial young are called this). A kangaroo is often referred to as a 'roo. A group of kangaroos is generally a mob, but can be a troop or court.
Kangaroos belong to a group of marsupials called macropods, which means 'great footed animals'. Macropods have strong back legs with long feet. They hop on their back legs when travelling, using the muscular tail as a balance. Hopping in this way is an energy-efficient way of travelling long distances. Their front legs are small. When moving slowly, usually as they graze or to change position, the tail and front legs prop up the animal, and the back legs move forward.. this is called 'crawl walking'.
Kangaroos are good swimmers, and will sometimes escape a threat by going into water if it is nearby.
Kangaroos feed in the late afternoon and early morning, spending the day resting in shade. In hot weather they scrape the ground with their front paws and lie in the cooler earth they have exposed. Kangaroos do not sweat, so in the heat they lick their front paws and rub the moisture onto their chests to cool down.
The word 'kangaroo' is from the Aboriginal word (of the Guugu Yiidhirr language) 'gungurru' for the grey kangaroo. However, the English settlers soon used the word, which they pronounced kangaroo, to refer to any of the kangaroo family.
When the early explorers first saw kangaroos, they described them as creatures with heads like deer but without antlers, that could stand up tall like men but that hopped like frogs. Female kangaroos with a joey's head peeping out of the pouch confused them, as they thought they were two-headed animals!
Social Organisation
Kangaroos live in groups of ten or more called mobs. Mobs can number over 50. Living in a group means there is protection for the weaker members. There are always some of the mob looking up so danger can be spotted quickly. The kangaroo has few natural predators. The thylacine was its main predator, but is now extinct. Dingoes are a threat, as are introduced species such as foxes and feral dogs or cats.
Diet
Kangaroos feed at night on grass and other low growing plants. Kangaroos drink water when they find it, but can go for long periods of time without drinking.
Female kangaroo preparing to give birth
Life Cycle
Kangaroos weigh less than 2 grams when they are born. The tiny baby, called a joey, climbs up its mother's belly and into her pouch. The mother can't touch it because it is so tiny. She licks a path in her fur for it to travel along. Inside the pouch it grabs onto one of four teats and remains attached to it for about nine months.
Milk is automatically fed to the joey, and the milk changes according to the joey's needs as it grows until it no longer needs milk.
At nine months the joey will start to leave the pouch for increasing periods of time,returning always to the same teat for a feed until it no longer drinks milk.
A female kangaroo generally has another baby in her womb 'in suspense', which means it has developed just a little bit and then has stopped and waited. When a joey leaves the pouch, the mother starts the development of the one in her womb again, and it is born a few weeks later. Then she will have one tiny helpless joey in her pouch, drinking the kind of milk it needs to develop, and she will have another joey that is out of the pouch but which returns to feed on milk from another teat in her pouch. That milk will be different from what the tiny joey is drinking, because the older joey needs milk that will help it get strong as it hops around.
An older joey returning for a feed
If conditions are bad, such as times of drought when there is not much food around, the female kangaroo may wait until things improve before letting the second baby develop. This means that there are few kangaroos born during a drought and ensures that there is food for the existing kangaroos. The babies are born when the mothers are feeding well and producing good milk, and so that when the young start to feed on solid food, there is plenty for them too.
Kangaroos in times of drought.
In a drought, large mobs move into farmlands and parks, even golf courses to find food. This often puts them into conflict with humans, who decide they are pests and sometimes results in them being 'culled', which means many are killed to reduce the numbers.
Different kinds of kangaroos
The red kangaroo is the biggest of all the marsupials. A male can be 1.5 metres long with a 1 metre long tail. It can weigh 85 kilograms. Females are smaller. Males are a reddish colour, but the females are a grey colour. Red kangaroos are found mostly in the centre of Australia, where it is hot and there is little rainfall. It is flat, open country with scattered trees.
The grey kangaroo is found along most of the eastern half of Australia. Grey kangaroos are almost as big as red kangaroos, but are a greyish brown colour. There are Eastern Grey and Western Grey kangaroos.
Sorry the photo is lopsided, but I'm not sure how to fix that part here.
Thankyou Muffin Goddess and you have given us so much info too:)
It really is a great entry. Florida Native- your grand daughter has done a great drawing for the team
Cookgirl
Tue Aug 14, 2012 6:21 pm

Forum Host
For the Jammin' Jazzberries, five year old ~Tasty Dish~ and I chose the Australian Jabiru bird (also known as the Black Necked Stork) for the
Go Wild Challenge
. We first read about Jaribus in a Golden Book that ~Tasty Dish~ owns called 'Hop, Little Kangaroo!" The very rare 'Pink Pom Pom' flower is an added artistic touch by ~TD~.
(All artwork by ~Tasty Dish~ with glue assistance by Mommy.)
ABOUT AUSTRALIA'S JABIRU BIRD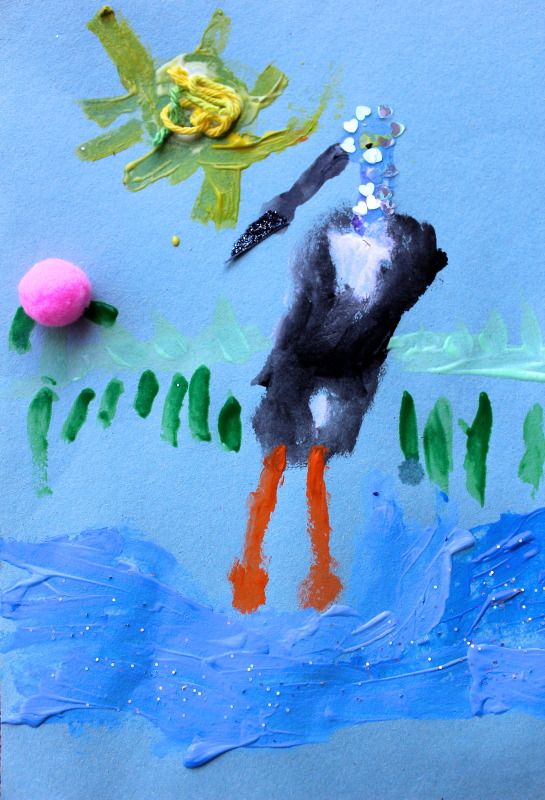 One of the most famous Australian birds, Ephippiorhynchus asiaticus is the largest Australian wetland bird. It is the only species of Australian storks and it is also called black-necked stork. It is 1.4m tall, mainly thanks to its long legs, and has a wing-span longer than two metres. It has got a heavy, 30cm-long black bill, a black-and-white body, and its head and neck are green-blue. Here is is some information about what it eats, where it lives, when it breeds and where in Australia you can see it.
It is found in waterways like wetlands, swamps, floodplains and mudflats in northern and eastern Australia. It feeds on large insects, crustaceans, molluscs, fish, especially eel, and reptiles like water pythons.
It is usually seen foraging alone or in pairs. It may form groups at times when food is very abundant, but even then the individuals hunt independently. They often share wetlands with many other interesting Australian birds, and animals such as crocodiles.
Although they are mostly solitary when feeding, they form long-term couples and may roost in couples. They roost on the ground but usually build their nest up in trees. Female lays 2-4 eggs in a large nest made of sticks which is used year after year again. Both male and female build nest, incubate eggs and feed young. Once the young are about one month old they are left in the nest while the parents go foraging.
Although Jabirus are found in a large area in Australia, they occur at low population densities and are not very common to see unless you visit wetlands in northern Australia. Good places to see them are Lakefield National Park on Cape York peninsula in far north Queensland, Kakadu National Park in Northern Territory, and the Kimberley region in Western Australia.
**Jubes**
Tue Aug 14, 2012 7:17 pm

Forum Host
Thanks Cookgirl and Tasty Dish. Great painting and I love the added extras including the very rare pink pom pom flower
So bright and pretty
Cookgirl
Tue Aug 14, 2012 7:28 pm

Forum Host
You are most welcome! Thank you, Australia
for having such beautiful and unusual animals!


Greetings from Oregon!
**Jubes**
Tue Aug 14, 2012 11:28 pm

Forum Host
It's been wonderful having the ZWT in Australia and New Zealand.
I've absolutely loved seeing all the kids art and the stories about our wildlife
Go to page << Previous Page 1, 2, 3, 4, 5, 6
E-mail me when someone replies to this
Add this to My Favorite Topics
Alert us of inappropriate posts
Free Weekly Newsletter
Advertisement
Ideas from Food.com
Everything you need to conquer life in the kitchen.