~Rita~ wrote:
here is my challenge
Anthony Bourdain, author, television host and the original big bad boy of celebrity chefs, is not leaving business unfinished. States �The most urgent reason we are back in Lebanon because I have lived with a deep sense of dissatisfaction that I never got to show people how amazing this place is�.
Four years Tony and his crew evacuated Lebanon by boat in the midst of the 2006 war between Israel and the militant group Hezbollah, we have returned to film a new episode, and to confront some painful memories in the process. And Tony is bringing me ~Rita~ with him!!! Do ya think I can out drink him? Well just in case I can`t we`ll be bring from the beverage forum Hope and V.
Anthony Bourdain arrived prepared
Picking us up in a
and off to Newark airport catching a plane to the only airport in Lebanon, Rafic Hariri International Airport in Beirut. It is also called Beirut International. With NO RESERVATIONS We drank
on the ride to the airport. To calm our nerves. We landed in Beirut, Lebanon having a comfortable climate and mountainous terrain making it the ideal tourist destination. As rich in diversity as it is in beautiful scenery, different ethnicity's and religions make up the population of the West Asian country adding cultural appeal. From its beautiful coastline to its winter lodges (the Cedars, Faraya Oyoun as Siman, Laklouk, Fakra, Qanat Bakiche and Zaarour), Lebanon
.
We arrived in Beirut and transferred to our hotel for check-in stopping for
Moroccan Cinnamon Coffee With Orange Flower Water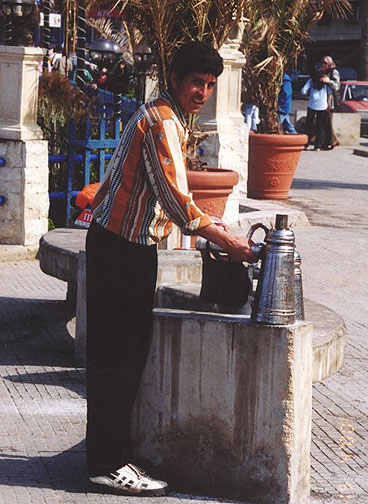 , snack on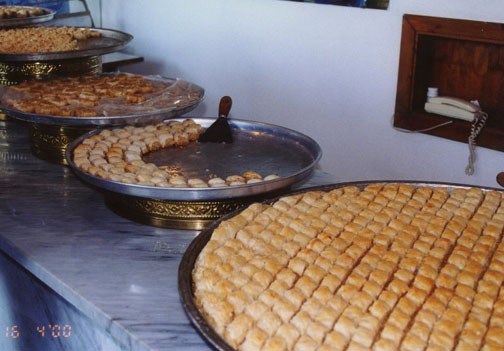 Bitleyweh,
Lebanese Cookies
and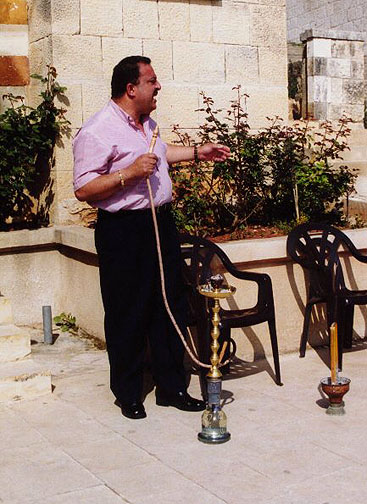 a smoke from the water pipe to calm the body . checked into
which is bordered by the Mediterranean Sea.
Full day guided tour of Beirut, Harissa and Byblow by private vehicle driven by Mommy Diva herself!
Tony recoups after a night of partying
in Down Town Beirut.
We met a bunch of Parting Gals named Leslie, Susie, Jubes, Toni, Laury, Nan, meg, and Sue celebrating Kathy`s cherry pitfalls!
Preparing for tonight. Tony enjoying
looking out at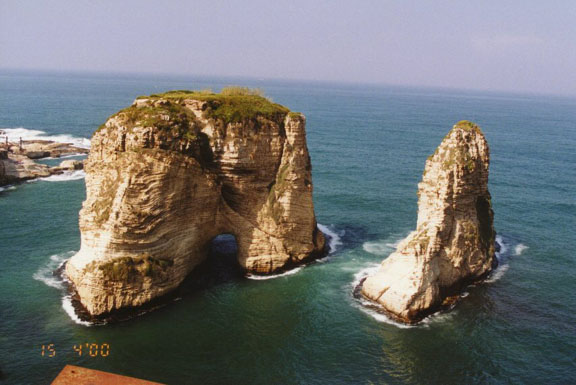 where he watches Peter and Sage swimming among Pigeon Rocks Coastal Avenue, then we head to the city center to visit the National Museum.
Then proceed to Harissa, climbing by cable car to the Holy statue of Notre Dame
for a breathtaking view of Jounieh and Beirut
.
In the afternoon, proceed to Byblos,
the oldest town in the world continuously inhabited for 5,000 years. One of the richest archaeological areas in Lebanon and the world, it is one of the top contenders for the oldest inhabited city award. Next, enjoy a guided visit of the city, including the citadel, St. John�s Church and the old port. Off to
check out the palace in Beit EdDine which took over 30 years to build. Yes! that is Karen walking to explore the palace.
Return to Beirut for dinner and an other night of drinking with Tony.
sitting at an outdoor restaurant
Beirut, Lebanon's capital is many things to many people. We hit the clubs along Rue Monot (Ashrafieh) or Rue Bliss (Hamra), in Beirut Central District. The gallery openings and museums continue on in the face of violence and assassinations. Soho-like bars, world-class universities, thick, aromatic coffee and an amazingly friendly people make Beirut a city more alive than many. Take in Aanjar as you stroll down the main street, enthralled by the remains of the Middle East's only Umayyad-fortified city. In Byblos you will catch a glimpse of the past in the archaeological remains and feast on scrumptious seafood at a quaint ancient harbor. Taste the infamous sweets in Tripoli while haggling for lower prices in the medieval souqs. Visit Beiteddine to see the marvelous mosaics on the fantastic Ottoman-era palace then travel to Tyre
to walk around the world's largest Roman hippodrome before wandering through the shore-side nature reserve here. Other cities worth mentioning include Baalbeck, Faqra, Jeita, Sidon, and Zahle
Was nervous going back to Beirut after his visit in 2006, which he doesn�t want to remember. Today he enjoys better scenery.
In Beirut, you can find excellent international cooking, but you will also be offered delicacies of the local cuisine. The national drink is arak
,Yes we had a couple! an anise flavored alcohol. However, the offer of arak is a courteous way of leading you to eat �Mezzes�, delectable hors d�oeuvres of infinite variety. Homos
and Tabouli,
both now widely enjoyed in Europe and the United States, are still at their best on Lebanese soil. For a main course you might be offered
Traditional Kebbe
, which is mutton carefully pounded and cooked with crushed wheat. �
Chicken Shwarma - Chawarma Lahme
� is lamb grilled on a vertical spit. Local wines, some of which rival those from Europe, go very well with these dishes. The sea also provides ingredients for savory Lebanese recipes and fruit is abundant, not only the kinds known in the west but those which only ripen under an oriental sun.
We did stop at Le Chef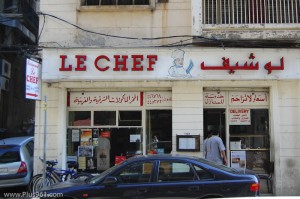 serving typical traditional plates such as Lebanese mezze, staples, hummus, kibbe, stewed lamb, arak. and a plat du jour varying between roast beef with mashed potatoes, sayyadiyeh, kibbeh bil sayniyyeh, mloukhiyyeh, and few others.
The most expensive item on their menu costs 8,000 L.L, while others such as lentil soup and fattoush cost 1,500L.L and 2,000L.L! We enjoyed incredible lamb and rice dishes, pickles, breads, the desserts in particular are subtle, sophisticated and unlike any other.
Beiteddine - Deir El Kamar
Full day tour of Deir el Kamar and Beiteddine. En route for the Chouf Mountains, he visit will start by Deir El Qamar, the ancient residence of the Governors of Lebanon. After, proceed to Beiteddine, a superb example of the Lebanese architecture of the 18th & 19th century. Return to Beirut for dinner and overnight.
Sidon - Tyre
Full day guided tour of Sidon and Tyre by private vehicle. Today you will travel south via Damour, to the site of Sidon. Enjoy a visit to the Sea Castle built by the crusaders, and the souks before proceeding to Tyre (which was previously an island.) Here, the main points of interest are the Arc de Triumph, the Hippodrome and the excavation bringing back to master pieces from Crusaders, Romans, Greeks and Byzantine era. If time allows, visit the Temple of Eschmoun, on your return to Beirut.
We couldn`t miss a visit the Ksara winery for a taste of the Lebanese production. Then proceed to Anjar, the only Omayyad city in Lebanon, and recognized to be one of the major market places on the Silk Road.
Transfers to the Beirut International Airport.
On our trip back home I wondered what is he writing?
I think about how the delicious food can bring world PEACE. I see Brenda Writing as well. Then I catch a glimpse she is recording recipes from the trip for the cookbook.
Knowing that
not be part of it!