ZWT9~ Rice Farming Challenge
Go to page << Previous Page 1, 2, 3
Linky
Fri Aug 23, 2013 9:57 am

Food.com Groupie
Dr. Jenny
Fri Aug 23, 2013 1:36 pm

Food.com Groupie
For Mike and the Appliance Killers, I will do Thailand. I hope the hosts of this challenge will bear with me and accept my next post as NOT my finished product.

I had gotten about halfway finished writing text and posting pictures using my IPAD, when as I was switching between windows where I was uploading pictures and where I was posting in this challenge thread, I lost EVERYTHING I had done up to that point.

I redid the text on my desktop but the photos are on my IPAD. I am going to post my journal (text only) right now so I don't lose it (and I need to leave the house now and won't be home till tonight), and I figure my post will at least be saved and that way I can add the pictures by editing the post without what I did getting lost again. Does this make sense? Please don't count my next post as my final version. I just put too much time into it to lose it again. Thanks!
Dr. Jenny
Fri Aug 23, 2013 1:36 pm

Food.com Groupie
For the Rice Farming Challenge, I have chosen Thailand.
Saturday, May 3: DH and I left Detroit Metro Airport for Bangkok. This is a 21 hour flight with one stop.
Sunday, May 4: We're exhausted, but excited. We have arrived in Bangkok, but still need to get to our host family in the Udon Thani province. We hopped a 50-minute flight on Thai International Airways and our hosts picked us up from the airport. We were just in time to enjoy an early dinner. Among the several dishes that were served,
Paad Thai - Shrimp (Stir-Fried Thai Noodles)
133435 was my favorite. We turned in early for bed.
Monday, May 5: Woke up this morning still feeling a little groggy. However,
Thai Egg Crepes
423997 really hit the spot for breakfast. While I could have really gone for a Starbucks,
Thai Iced Coffee - 12 Hour Brew Technique
503235 was still pretty good. After breakfast, our hosts took us to the beautiful Red Lotus Sea, which is something I will always remember. DH took some fantastic photos. Later, that evening, our hosts arranged for us to take a Thai cooking class at nearby Gecko Village. Turned in early for bed knowing there is a lot of work to be done tomorrow.
Tuesday, May 6: Joined our hosts in the rice paddies today. Since the rice planting season in Thailand starts in May, we got to take part in this process. I was charged with breaking holes in the mud walls of the rice field in order to move water down from higher fields to irrigate lower ones. When we took a break for lunch, I was already getting weary, and
Thai Peanut Chicken Salad Wraps
226215, packed by our host, never tasted so good. After a long day in the field, we went home and showered. Then we enjoyed a Thai massage at nearby Gecko Village.
Wednesday, May 7: Back out to the rice paddies. Today we helped our hosts transplant previously planted seedlings at a greater distance one from the next. Luckily, our hosts brought with them a generous supply of rice whiskey called lao khao to share and help us forget about how badly our backs were aching. After work that day was finished we took a nap back at our host's house. When I awoke to have another Thai massage, my head was aching in addition to my back from the effects of the whiskey!
Thursday, May 8: Today our hosts took us to the wetlands of Nong Han Gumphawaphee where we enjoyed bird watching. Of the 79 species of birds that call these wetlands home, we were fortunate to see both grey and purple herons, as well as the endangered Brahminy kite! Enjoyed a relaxing dinner back at home with our hosts.
Friday, May 9: Today, we rented bikes and explored the surrounding forests, villages, and temples. We set out late in the morning and did not return until early evening, where we enjoyed our last meal of our trip with our hosts.
Saturday, May 10: Today we bid farewell to our hosts and thanked them for such a wonderful experience. We caught our flight back to Bangkok, and as I write this, am waiting for our flight to depart Bangkok back for the long 21 hour journey to Detroit.
Susie D
Fri Aug 23, 2013 4:38 pm

Forum Host
I've created a new thread so we can complete the challenge without malware. Please post here:
http://www.food.com/bb/viewtopic.zsp?p=5937933
Charmie777
Fri Aug 23, 2013 8:59 pm

Forum Host
I'm excited to start my week long vacation in Cambodia!! I decided to journal my adventures for my buddies at Food.com!!
I met with the Dang family who own a rice farm. The offered to give me a tour of the area and teach me about rice farming.
On Monday we started in Siem Reap. We visited the oldest temple in the world, Ta Prohm of Angkor.
This was a nice way to appreciate the culture and the scenery.
On Tuesday we went to the Dang's rice farm.
I couldn't believe the size of it!!! After the day long tour we came home to a wonderful dinner of
Cambodian Marinated Beef
,
Cambodian Cucumber Salad
and
Cambodian Tapioca-Banana Pudding
.
Wednesday we got up early and I received lessons on rice farming from Duc Dang, himself!
On Thursday we visited the neighbors for a wonderful lunch of
Cambodian Style Tofu Salad
and refreshing
Tirk Kos Krote Komquat (Cambodian Komquat Drink)
Friday we toured neighboring rice farms and met many nice people along the way.
Saturday we were up early again and enjoyed a breakfast of
Jasmine Rice With Caramelized Green Onions
and
Mango Salad
Our final day, Sunday, was so sad to say goodbye to all our new friends. We spent the day shopping on the way to the airport. I can't wait to go back and visit the Dangs!!!
Linky
Sat Aug 24, 2013 1:36 am

Food.com Groupie

Rice farming in Thailand
Thailand! The word conjures up images of exotic foods,
shining temples,
and endless rice fields…
As part of a farming exchange program sponsored by the Wisconsin Dairy Council, my husband and I were invited to live with a Thai farming family for a week to experience life on the farm. Good-by cow patties –
hello rice paddies!
DAY 1
After two long flights, we landed in Bangkok. What a mass of humanity! I grew up in Chicago but that was nothing compared to all the people and traffic of this huge metropolis. We were able to tour the floating market before heading to our bucolic destination.
The rice farming area extends through quite a bit of interior Thailand.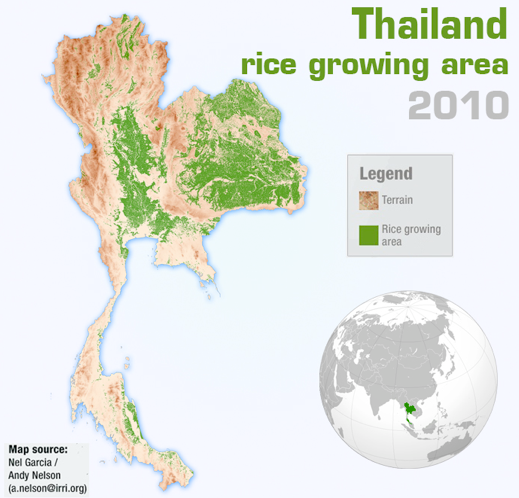 Our destination was a farm near the northern city of Chaing Mai. We took the night train and were met the next morning by our hosts, the Kuhn family- Khun Tan and his wife Kuhn Poot and their two kids, Tatul and Dej. They taught us to greet one another with a Wai...
We didn't do it very well, which caused the kids to giggle – a lot!
We took the opportunity to stop at a market to get ingredients for the coming week's meals. Some of the things we could identify - yum rambutan...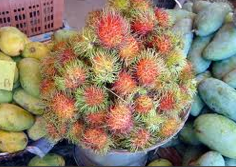 some we couldn't identify (or didn't want to)!
Hopping into the back of a battered van, we drove to the family farm. Thailand, once the #1 producer of rice worldwide, is now #3. Partly due to stockpiling as an artificial means of keeping prices high, other countries have filled the gap in world-wide rice production. Unfortunately, this has hit rice farming families hard, including our hosts.
On our first night on the farm, we are delighted by a wonderful meal including what they called
American Kitchen Classic Basic Thai Curry
Recipe # 490104! Poot sometimes works in the kitchen at the Riverview Lodge in Chaing Mai. Poot had gotten the recipe from her boss, who spent some time in Washington while her husband went to university.
DAY 2
We awoke to roosters crowing but had a lovely breakfast of strong tea and
Poached Eggs on Asiatic Bed
Recipe # 267428
Poot explained that Tan had gone to town to his part-time construction job, but that she and the kids would give us a tour of their farm. The farm is shared and worked by the extended Kahn family. Many of the younger people prefer to go to school and do not want to work as hard as their parents and grandparents did. Most rice farm workers are in their 40s and older.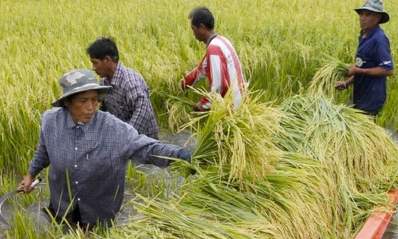 Rice has to be planted individually - seedling by seedling.
DAY 3
Tan joined us and showed the pre-germinated seedlings that are grown in wet soils. They are then transplanted to irrigated rice paddies.
Working out in the fields under the hot sun was exhausting!
We were glad to take a break and enjoy a delicious lunch. Recipe # 424751 Thai Grilled Beef Salad was a wonderful choice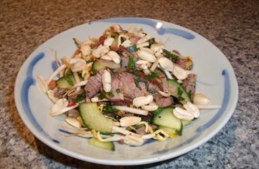 DAY 4
Because we were not here at the beginning of the rice-planting season, we were not able to witness the Royal Ploughing Ceremony. With the king presiding, rituals and ceremonies are used to predict the rice crop of the forthcoming year. But we saw plenty of pictures that the Kuhns had taken of the event.
DAY 5
Today we got to meet the some more family members
as well as the hired help. It seems that workers from Burma are more willing to work the fields than the young Thai people.
DAY 6
We slept late and had a farewell brunch with our new friends.
They took us back to Chaing Mai where we spent the afternoon and evening. I got a wonderful foot and leg massage!
That night we went to the Night Market and bought Hello Kitty pajamas for our granddaughter.
We stayed at the River View Lodge and had another chance to say goodby to Poot, who was cooking that night.
DAY 7
Hopped on a Thai Airways plane to Bangkok, then our long flight home.
Sawadee, Thailand!


Last edited by Linky on Sun Aug 25, 2013 4:00 pm, edited 2 times in total
Susie D
Sat Aug 24, 2013 5:59 am

Forum Host
Terrific job Linky & Charmie! You made me want to visit.
Susie D
Sat Aug 24, 2013 6:00 am

Forum Host
Member #610488
Mon Aug 26, 2013 6:12 am

Food.com Groupie

We are off on a whirlwind tour of Cambodia with an emphasis on staying on a local rice farm. The farm is located in the Chi Kraeng District of Siem Reap Province, just down the road from Angkor Wat.
:arrow:
Day 1

All of the Soup-A-Stars have hopped planes from airports near their homes and flown around the globe to Siem Reap, Cambodia.
Since we are mostly jet-laged, I shepherd everyone onto the minibus to our wonderful guest house where we catch up on the lost time and acclimate ourselves to the heat and humidity of the local area.
:arrow:
Day 2

Early the next morning, we all climb into the minibus to the local farm where we are greeted by our hosts, Keo Saroeung (sah-roong) and her husband Sok Samnang. They have several children, Dara, Srey, and Rith. The first two are girls and the last is a young boy. They had dancers waiting to perform for us.
The family offers home-stay visits year round and built another house for visitors to stay in that is more western in comfort. The Soup-A-Stars carry our luggage into the open plan building where all the beds line the walls and the outhouse (W.C.) and shower facility is out back.
Main farm house
The guest lodging
After the group sorts our sleeping arrangement, the hosts announce that lunch will be served in their home.
Hot Basil Chicken ( Cha Kdao Sach Maon )
502950 by studentchef
After a wonderful lunch, we all troop back into the minibus for a short ride to Angkor Wat where we are given a quick tour around the sight with the expectation of returning later for a more indepth visit.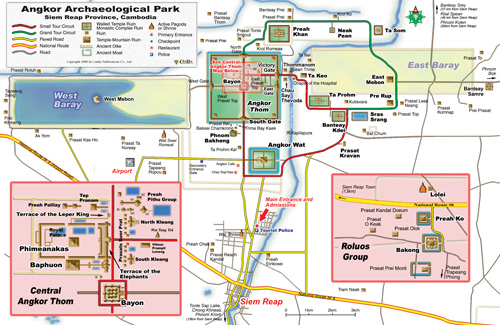 On the return trip to the farm, we travel through the city of Siem Reap where everyone starts expressing an interest in shopping. A visit to the market is in order.
When the minibus returns to the farm, our hosts have another wonderful meal ready for us to partake.
Beef and Lemongrass Skewers Cambodian Style
482376 by celticevergreen
Cambodian Pineapple Custard (Num Crème Ma-Nor)
503202 by Random Rachel
:arrow:
Day 3

An early morning breakfast starts the day off right. Each morning at the farm will offer coffee, tea, and some variation on the following dish, which is extremely filling.
Vegetable Fried Rice
504558 by threeovens
The fun part of the visit starts this morning after breakfast. We get to get dirty and wet while we help to transplant rice from a nursery field out into the open growing field where it will finish its life cycle. Dressed in grubby clothing, lots of sunscreen, assorted hats and flip-flop shoes, we travel behind our hosts out to the nursery field where they explain the process of transplanting rice.

Once the rice has grown to a certain length, workers will go into the field and pull it up in large clumps to transplant it. For transplanting it into another field, it is essential that the roots are preserved so the rice can grow again. Once the rice is clumped up, it is moved to another field to be transplanted to spread for a larger crop. The clumps are undone and the roots are pressed into the wet, muddy ground to begin taking root in the new field. Someone follows behind the women pressing the rice into the new field with a bucket of rice seeds, spreading them around to fill in the holes for fuller growth. The field where the rice is being transplanted to has been prepared already by farm animals.
After a lot of laughing, splashing of water and general hijinks, the work was done and lunch was ready for us back at the main house.
Stir Fried Shrimp and Green Tomato
504557 by threeovens
The lunch was luxurious after all that hard work but more was needed to be done. Our hosts lead us to another water filled field of rice that needed weeding.
After showing us the walking hoe, we all got to try it around the field where it dug up the roots and plowed the weed under and into the wet mud. Really quick work and soon it was time for an afternoon siesta.
To Hu Ang Swai Chei (Grilled Tofu With Mango Slaw)
502867 by AZPARZYCH
Num Chet Chien (Cambodian Banana Nuggets)
505514 by Dreamer in Ontario
The evening was spent watching the local TV and just relaxing with our hosts and their family. The children answered questions as best they could until it was time for their bed and the adults went to theirs a short time later.
:arrow:
Day 4

[b]The minibus was made ready again after breakfast and the Soup-A-Stars headed off down the road to Tonle Sap Lake where a boat trip was arranged out to one of the floating villages, Kampong Phluk, where we were able to tour the flooded mangrove forest that the village is floating near. We had a wonderful lunch on one of the floating barges in the village.
The return trip had the group stopping to visit the Angkor Silk Farm where we saw a demonstration of Cambodian silk weaving and everyone in the Soup-A-Stars went just a little crazy purchasing silk items at such ridiculously low prices. I guess "Everyone is getting silk this Christmas!".
Cambodian Sweet and Sour Fish
505454 by Pesto lover
Cambodian Tapioca-Banana Pudding
503552 by ElizabethKnicely
:arrow:
Day 5

After our filling breakfast, we got our working clothes on again to help our hosts with their vegetable garden, which was filled full of corn, long beans, green mustard plants, curly cabbage, and bok choy.
This turned out to be enjoyable as we wandered through the gardens, collecting the ripe vegetables and discussing our own gardens and, for those who came from farms, the farm animals. One or two of the group decided to get down and dirty with the pigs while the rest of us went egg hunting through the many chicken coops. I will not name names though.
:wink:
Caramelized Pork and Eggs (Sach Chrouk Kho Nung Poang Moan)
503198 by Random Rachel
The afternoon was spent walking to the local village, Tra Peng Veng, where we talked to the locals with the assistance of a translator. Most families in the village grow rice while a few are vegetable farmers who sell their crops in the Siem Reap markets, hotels and restaurants. Most families had chickens as well as a pig or two.
Cambodian Eggplant
505705 by Elmotoo
Cambodian Cucumber Salad
505708 by Elmotoo
:arrow:
Day 6

This was the day for the return trip to Angkor Wat.
When the bus returned from the archeological site, dinner was a welcome site to behold.
Cambodian Chicken Soup
503554 by ElizabethKnicely
Cambodian Coconut Custard
505810 by Pesto lover
:arrow:
Day 7

A sad day for all the Soup-A-Stars since it is time for us to return to the airport and journey back home. A quick goodbye to our hosts and their children and we are off to the airport.
Pesto lover
Mon Aug 26, 2013 7:01 am

Food.com Groupie
My fellow Gourmet Goddesses were excited to hear that I would be spending a week with a Cambodian rice-farming family. I will learn all about how rice is grown. I hope to be a help to the family who will host me
Day 1:
After a very long flight from Los Angeles, I finally land in Cambodia. There is a lot of traffic and hustle and bustle around the airport. I get my small bag and find the bus that will take me to Tuol Sdey, a small town of about 2,500 people. It is in the southeast part of the country. As I ride along I notice how green everything looks. But I also notice how warm it is. When I arrive, Sok Sek, the community chief, greets me and introduces me to his family and to the family who will host me.
They are shy, but friendly. We walk to their home and the children of the village run alongside us, laughing. The homes are mostly made of mud. When I enter their home, I notice how much cooler it is than outside. Though very simple, I know I will be comfortable here. I am immediately given a glass of a fruit juice. The family is busy preparing for the evening meal.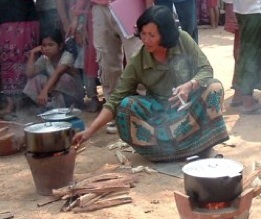 We sit on the floor, almost in a circle around the food. As the honored guest, I am served first. We all enjoy Cambodian Chicken Soup #503554 by ElizabethKnicely. I am so hungry that I can hardly restrain myself from gobbling it down. It is delicious.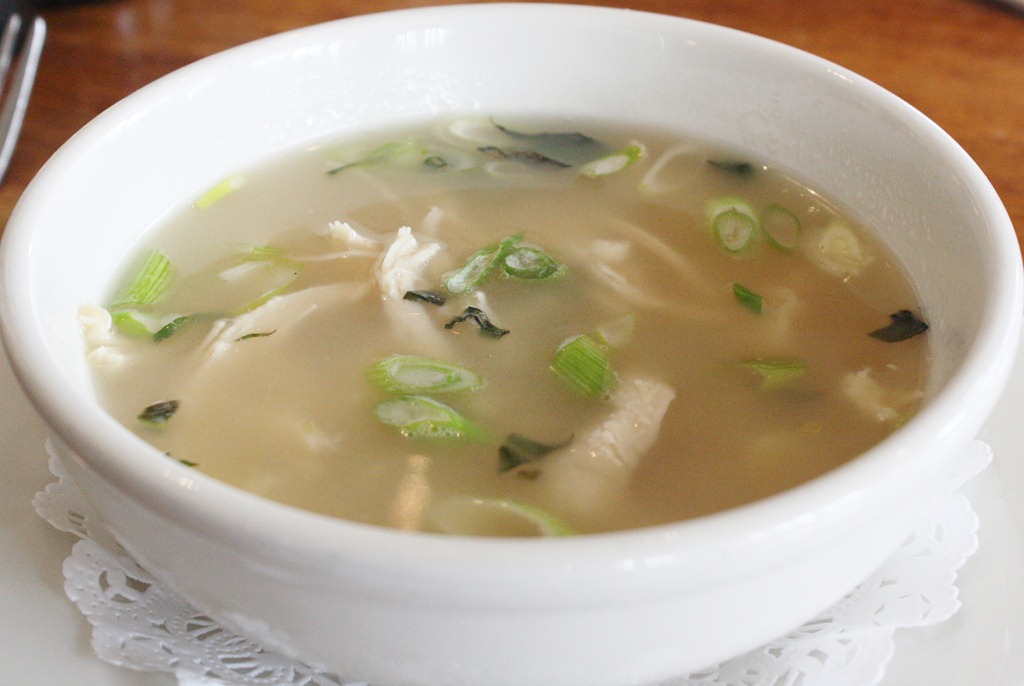 There is assorted fruit a little later. Cleanup is quick and everyone goes to sleep early because the work in the fields will start very early tomorrow.
Day 2:
We get up early and are served a rice porridge with dried fish. Fresh bean sprouts and green onion are sprinkled on top. I eat sparingly. I'm used to just having coffee in the morning.
The village is very proud of a new dam that was completed in 2011. It is 6 feet high and 90 feet across. With the dam providing a constant supply of water and the new rice growing techniques being used, I am told that the village can get two harvests instead of one. That means a huge financial boon to this poor area. A small plot can grow one ton of rice!
After my tour of the dam, we join the rest of the family in their paddy. My education in rice farming begins. The rice has been growing for about a month and a half. We are now pulling it out, tying it in bunches and putting it aside. It will be re-planted in 3 days.
We stop for a delicious lunch of Cambodian Ginger Catfish #503553Cambodian Ginger Catfish by ElizabethKnicely. It is served with lots of plain, steamed white rice. I enjoy it very much. We get back to work. There is a lot of conversation and laughing going on between the women. I wish I could understand them. Though the work is hard, they seem to be enjoying their time together. We stop at about 4pm and go back home. I hose off my arms and legs, and sit down to rest a bit. Dinner is served. We have Cambodian Eggplant #505705 by Elmotoo, with rice. There is more fresh fruit and then it's bedtime.
Day 3:
I am very sore today. Rice farming is very hard work. We have a different type of rice porridge, with bits of pork and some vegetables in it. We start pulling up and tying the rice bundles. We should finish them by tomorrow. For lunch, we enjoy some steamed fish and rice, with some pickled vegetables. By the end of the day, I have really slowed down. I feel badly that I am not able to keep up. The family keeps urging me to go sit and rest, but I manage to make it to the end of the day. Dinner tonight is wonderful. We have Laotian Khaw Mee #503281 by Mikekey. There is a side dish of baby bok choy, simply fixed. I notice that the food here is not fiery hot. It is very flavorful, but chilies are used sparingly. Thank goodness. I don't think I could eat super spicy food in this heat. For dessert, we have sticky rice with a coconut sauce. It was so good.
Day 4:
This morning we had a type of cake that was not too sweet and some fruit for breakfast. I really enjoyed it. Instead of going to help with the rice, I was asked to help with the cooking today, since Grandma wasn't feeling well and was being taken to a clinic.
She usually does most of the cooking. I made sweet and sour fish, since there is a good supply of fresh water fish here. I made some grilled vegetable and, of course, rice. My food was well-received, though it certainly wasn't as tasty as Grandma's dishes. I walked back from the paddy and completed the clean-up of dishes. I dozed for about an hour and then went to buy a few things for the dinner. I surprised the family with Khmer Coconut Pork Skewers (Cambodian for ZWT-9) by twissis. I served it with rice, and some greens I found at the vegetable stall. I made a mixed fruit salad to end the meal. The family was very kind with their compliments. Grandma even smiled at me while she ate.
Day 5:
Today we started the day with another rice porridge. I ate it all because you need energy for the work in the paddy. We started re-planting the rice bundles. It was easier than the previous work. After a quick lunch of a vegetable stir fry with bits of chicken, we kept at it and got quite a lot of planting finished. We had a sour fish soup, followed by rice noodles with vegetables for dinner.
Day 6:
Today was very similar to yesterday, as far as the rice work went. But I noticed that lunch was lighter than usual and we stopped work about an hour earlier than usual. Everyone kept smiling at me all day. I smiled back but wondered what was going on. I found out when we got back to the house. There were several people outside. They had set up a couple of grills. Grandma was busy preparing several dishes and there was a lot of grilling going on. I smelled fish and chicken.
A regular feast was served, as a going-away dinner in my honor. Speeches were made and there was a lot of laughter. I enjoyed the wonderful food and thanked my host family for their sincere hospitality. I told them that I wished they could someday visit Los Angeles. There was some singing and then everyone left and we cleaned up. The rice awaits them in the morning.
Day 7:
I had some tea and cookies with the family, said my good-byes and took the bus back to the airport early in the morning. I actually stopped at a bunch of food stalls near the airport first and tasted all kinds of wonderful things there. I am sad to leave Cambodia. It was such a great opportunity to live with a family and share their day to day life. I certainly learned to appreciate the hard work that goes into growing our food. I hope to visit this beautiful country again in the future.


Last edited by Pesto lover on Mon Aug 26, 2013 11:01 pm, edited 1 time in total
threeovens
Mon Aug 26, 2013 5:04 pm

Food.com Groupie

Lucky us! We're off to the Lao People's Democratic Republic (Laos), the Sticky Rice captal of the world! One cannot travel to this Southeast Asian country without many meals of sticky rice; it is a versatile staple of Laotian cuisine.
What explains the national love of sticky rice? Many Laotians laughed when we asked them. Sticky rice is what their grandparents and great-grandparents ate, they said. Perhaps they were caught off guard by our question: like baguettes in France and sushi in Japan, sticky rice is so ingrained in Laos' culinary heritage that most Laotians don't think about it in isolation. These days city dwellers eat sticky rice for taste, in rural areas sticky rice is eaten for survival.
Sticky or "glutinous," rice has been growing in mainland Southeast Asia for at least 4,000 years. Historians debate whether ancient farmers grew sticky rice because it was suited to local growing conditions or because they liked its taste and chewy texture. Laos is about the size of Utah, but per-capita, has the highest consumption of sticky rice on earth. They eat more than 345 pounds per year. The average America, by contrast, eats less than 20 pounds of rice annually.
On Day 1 we arrived at our destination. We were staying at something like a bed and breakfast. Our host family supplements their income by hosting groups like us, so they built sort of a hostel.
Our accomodations were very welcoming when compared to the ferry ride over the Mekong River.
For breakfast we were served
Asian Chicken Soup
#490518.
In Laos breakfast does not consist of bacon and eggs! Other breakfast items include:
Lao Garden Breakfast - fluffy omelet, steamed vegetables, sticky rice, and chili sauce for dipping.
Warm Lao Bread - sticky rice is formed into large round patties. They are then dipped in scrambled eggs mixture and fried. Also dipped in chili sauce.
Chew Makork - hard boiled eggs served with sauteed vegetables, sticky rice, and a chili herb paste.
Baguette with condensed milk. They just pour the milk over the bread to soak it.
Day 2
We went to visit the local tourist attraction - the Vat Phou South Palace.
On this day our lunch included
Green Papaya Salad (Som Tum)
#505033. We also had the proverbial sticky rice with chili sauce.
Day 3
We went to see how the rice is actually grown.
On Day 4 we harvested the rice as we knew it was ready because the stalks were sturning yellow. Yea!
On Day 5 the rice was laid out to dry to prepare it for milling.
Our dinner was
Larb - Laotian Chicken Mince
#503563. This is a Laotian favorite.
On Day 6 we were treated to a visit to the local rice mill where the rice is washed, husked, and milled to remove the outer bran layer. I know it does not look like much, but before these mills were built the rice was prepared by hand which involved rubbing the rice between rocks, etc. A lot of work!
On Day 7 we were very busy saying our goodbyes and reminicing about all the great food we ate:
Lemongrass and Ginger Iced Tea(Laos)
Kay Patkhin (Laos Chicken With Ginger)
Jaew Bong--Lao Chili Paste
Lao Chicken Soup
Gang Pit Laos
Laotian Fried Rice
Jeow(Laotian Salsa)
Nhem (Laotian Crispy Rice Salad)
Laotian Dried Beef
Laotian 5 Vegetable Stir Fry
Laotian Khaw Mee
Laotian Fish Balls
Laotian Green Pawpaw Salad
Laotian Fish Soup (Kang Som Pa)
Laotian Mild Coconut Tofu Curry
Laotian Curry Soup (Kao Pboon)
Laotian Steamed Spicy Chicken
Larb - Laotian Chicken Mince
Laotian Beef Salad (Larb) With Omelette Noodles
Mia in Germany
Mon Aug 26, 2013 8:22 pm

Forum Host
It all started with a package of violet rice from Laos, which I purchased in our small fairtrade store. Curious about the history of this rice and the fairtrade project behind it, I convinced our team to make a trip to a fairtrade rice farming community in Laos.
Marcasite Queen was one of the driving forces besides me because she particularly liked the stunning colour of this beautiful rice!
Day 1:
So today we arrive in the capital Vientiane where our host, fairtrade rice farmer Bounmy Salikeo, welcomes us and brings us to his farm north of Vientiane, near Kasi.
We learn our first sentence in Lao language:
Kin khau läo boo? - Have you already eaten today?
Domesticangel proves to be a genius in pronouncing this correctly. We all do our best, but somehow the Lao language turns out to be quite a piece of work to pronounce. Our host is extremely polite, but he smiles, too, when with a lot of laughter we keep practising this sentence, which practically is the typical greeting formula in Laos besides "sabaidi" ("good day").
Eating is one of the most important actions in life, and there are two elementary rules for it: First, never eat alone - a shared meal is tastier and healthier. And secondly, have rice with every meal, because rice is a holy gift from Mother Earth (Nang Tholanii).
Day 2:
After the typical breakfast of
Laotian Dried Beef
with
Easy Sticky Rice (In a Pasta Pot)
and
Lemongrass and Ginger Iced Tea(Laos)
, we have a quiet day to adjust to the climate and surroundings and learn some about the country.
Laos is an agricultural country. 80 % of the population practices subsistence agriculture.
40% of this is the cultivation of rice, of which 90% are consumed by the Laos population and only 10% marketed in other countries.
Approximately 77% of Lao farm households are self sufficient in rice.
Laos possesses a large diversity of rice species, between 3000 and 4000 varieties are known, most of them sticky rice varieties.
We enjoy a light lunch of
Laotian Green Pawpaw Salad
and of course sticky rice.
Day 3:
Bounmy explains that the purple rice which brought us here is a specialty which is served at special holidays.
We learn that rice originally is not a water plant so that it has to be sown in dry soil because it wouldn't germinate in soaked ground. That's why the seedlings later have to be transplanted to the flooded fields.
We help ploughing the wet field for planting the seedlings. For this, we stir a water buffalo who draws a plough through the soaked ground. Debbwl seems to have the best connection with the big animal, because he actually listens when she commands "Hoij!" ("walk on!").
Lunch today is
Larb - Laotian Chicken Mince
, the Laotian national dish. Interesting with the toasted and then ground rice sprinkled over it.
Day 4:
We learn that through the fairtrade program, Bounmy started to earn a bit more than before, which improved life for him and his family.
Still, planting the seedlings into the water is hard work as we can experience ourselves today. It's quite a challenge to keep balance on the muddy ground while planting the little green babies.
After one day of planting, Jim seems the only one of us who's not looking like the final stage of osteoporosis.
I don't even recall dinner and have to ask Bayhill and ChefPotPie, but they both claim that they just want to go to bed!
Day 5:
The day starts with noodle soup for breakfast.
The fairtrade program has it's weaknesses, too, alas, as we learn today.
But it's definitely better than the slash-and-burn which was practised before, and it's better than growing opium poppy.
Alvinakatz and MomLuvs6 make a little movie about the purple rice and the issues of the program:
http://www.youtube.com/watch?v=5Zg0-6uvS6g
Meanwhile, the others help harvesting the mature rice from the other field. There are always a mature field and a freshly planted one at the same time.
Rice is harvested when the moisture content of the grain is around 25%. Then the fields get drained so that the rice can be harvested.
We cut the rice ears with sickles shortly above the soil and tie them into bundles to transport them to the threshing area.
Each bundle gets fixed to two sticks and then smashed to the ground to get the grains off the ears.
Afterwards, the grains have to be dried to about 20% moisture content.
Day 6:
Besides the rice farming, our hosts also collect fruits which are grown in the forest.
Today we accompany our host family collecting pineapples from which they make preserves.
Day 7:
Today is a resting day. We visit the village's temple and the market in Luang Prabang.
We also participate in a religious ceremony called "Baci" which is held for specific events in an individual's life. This one is held to wish us well for our departure the next day.
The ceremony is held by a senior person who has been a buddhist monk at some stage.
We sit around an altar with a lighted candle, the senior speaks a prayer while the others are chanting. Then each of us gets white good luck bracelets around our wrists.
Afterwards we enjoy Laotian dance.
In the evening we have a big dinner, consisting of
Laotian Fish Soup (Kang Som Pa)
,
Laotian 5 Vegetable Stir Fry
,
Laotian Fish Balls
,
Nhem (Laotian Crispy Rice Salad)
,
Laotian Steamed Spicy Chicken
and
Jaew Bong--Lao Chili Paste
.
We share local liquor and sweets with our hosts and dance some more. Loof loves the dancing so much that she barely can stop!
We are going to sleep very well this last night at our wonderful host's house, and we sure won't forget this rice farming adventure in Laos!
Muffin Goddess
Mon Aug 26, 2013 11:49 pm

Food.com Groupie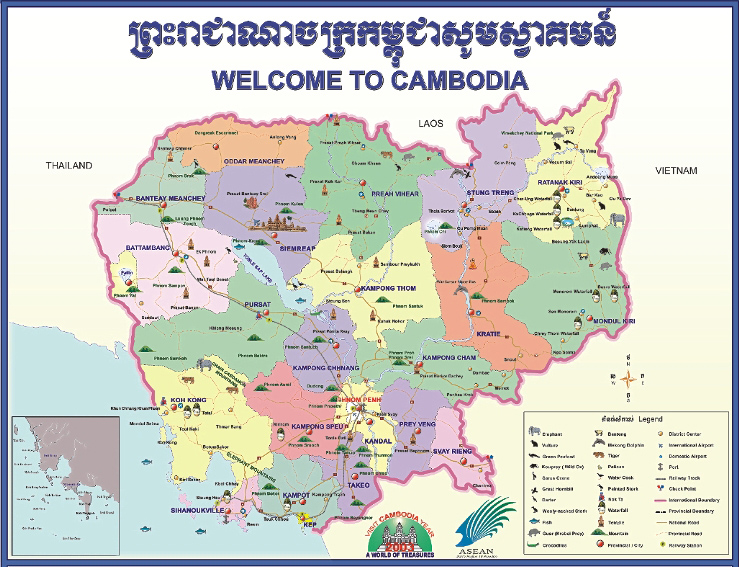 DAY 1: Arrived at my destination of Kampong Cham, along with my translator. It is very close to the Vietnam border, and is the 11th largest province of Cambodia. Very nervous about crossing the extremely long and rickety-looking bamboo bridge to get to my host family's home
.
Once I got there, the extremely gracious host family shared their lovely dinner of
Cambodian Ginger Catfish
and then left me to sleep off some of my jet lag in a little private hut they constructed for guests.
DAY 2: Feeling a bit more myself after a good night's rest. Can't believe how peaceful it is here! Realized that we had been left behind to sleep in a bit. The only person still at home with us was the grandmother; she informed me that she was not expected to work the fields any longer, so she would remain home to cook meals for the family members who were out working in the fields all day. Before she would allow us to leave the hut and seek out the others in the rice fields, she made me a delicious breakfast of
Cambodian Tapioca-Banana Pudding
(she said that she normally makes a more savory dish for her family, but this was special for us because she heard that Americans enjoy sweets for breakfast)
DAY 3: Host family very patiently showed us the whole process of planting the rice. The whole family works together to make this happen, since this is their livelihood.
DAY 4: Today the family was jokingly trying to get me to work with the water buffalo. By the look on the water buffalo's face, I'm not so sure that she was any more keen on that idea than I was:
No water buffalo wrangling for me, thank you very much!
DAY 5: The family was surprised at how quickly I picked up the process of rice farming. They were pleased at the level of interest that I had in their culture and daily lives, and decided that perhaps I should spend the afternoon with the local children. giving them a lesson on American culture.
The children were lovely, and very curious to learn all about American life, since it is so very different from their own in rural Cambodia.
DAY 6: Since this is our last full day in Cambodia, the family decided that we would celebrate our last day together. We got up very early and traveled to the Central Market of Kampong Cham. The family bought some groceries to bring home, and we enjoyed some food stall items for lunch while we strolled around the market and I took in all the sights, sounds and smells of Cambodia. I opted for some
Beef and Lemongrass Skewers Cambodian Style
and
Cambodian Grilled Corn
to tide me over until the evening meal. Once we returned to the village, we were informed that the eldest daughters of the family had been planning some wonderful entertainment for us. They clearly had put a lot of thought into this production, and it was beautiful to watch.
Lots of dancing, singing, and gorgeous traditional costumes!
DAY 7: Well, our time here is over. As much as I miss home, I am quite sad to leave my lovely host family. They have taught me so much, and have been so welcoming. I have enjoyed wonderful food, breathtaking sights, and now have a deeper appreciation for life in rural Cambodia. I will miss my wonderful new friends! :wave:
Susie D
Tue Aug 27, 2013 12:42 am

Forum Host
This challenge is current to here & now closed.
Go to page << Previous Page 1, 2, 3
E-mail me when someone replies to this
Add this to My Favorite Topics
Alert us of inappropriate posts
Free Weekly Newsletter
Advertisement
Ideas from Food.com
Never miss awesome holidays like Doughnut Day again.