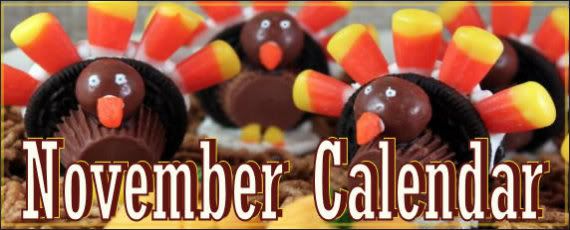 Banner shows Oreo Cookie Turkeys #142998 by Pam-I-Am and photo by SashasMommy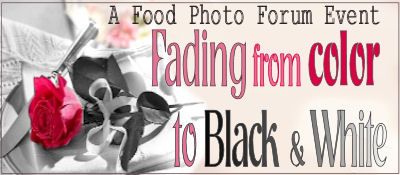 Fading from Color to Black and White
Fading from Color to Black and White will be a learning and artistic challenge in the
photo forum
for the month of November. We are encouraging everyone to give it a try, ask question and offer up helpful tips.
I Recommend Tag Game
During the months of November and December, I am having a SPECIAL and you could win a gift card, cook books or a recipe review.
Any tag that represents Thanksgiving and Christmas recipes, will be qualifying tags, though any recipe can still be tagged. Click the link below for further details:
I Recommend Tag Game
Topic of the Month Forum
If you are helping provide an elderly relative, friend or even children with easy meals for them to enjoy this months TOTM is for you!
Its full of some wonderful recipes and ideas suitable for different situations from the elderly to young children - long or short term.
You will also find it very helpful as its full of ideas that will make life easier for you such as hints on packaging and freezing plus easy to eat meals for all situations.
Come and join us at
TOTM
where you are sure of plenty of ideas and a warm welcome.
Now What?
Watching the long-term aftermath of Sandy, from the relative safety of the other side of the US, makes one wonder a few things...
What did I learn from this?
Am I truly prepared for a long-term emergency?
What is missing from my emergency supplies? .......
Join the conversation in the Emergency Foods & Supplies Forum.
Now What?
Pomegranates
The
Special Diets Forum
discusses pomegranates and invites you to join the discussion
www.food.com/bb/viewtopic.zsp?p=5789513
Cranberries
Please join the
Special Diets
forum's discussion of cranberries
http://www.food.com/bb/viewtopic.zsp?p=5789514
Fall Favourite Makeovers
November already! There is so much happening! The American Diabetes Association designates November as American Diabetes Month plus many more celebrations and remembrances. Come and join our tag game by tagging recipes and sharing healthy make over secrets for fall.
http://www.food.com/bb/viewtopic.zsp?p=5787712#5787712
What's On Your Preservation Library Bookshelf ~ 2012
A recap of all the books recommended in our Canning/Preserving/Dehydrating 2012 topics of the month, just in time to order for holiday gift-giving.
http://www.food.com/bb/viewtopic.zsp?t=383124
TOTM Flavor of the Month - Cocoa
The Cocoa bean has been used for thousands of years, from offerings to making drinks. Chocolate drinking houses were popular in the 1700's in Europe and England. It was not until about 1850 that Mr Cadbury developed a system of making chocolate into bars - and the rest is history.
The Craving for Chocolate is hard to resist and as an ingredient its simply stunning in anything from muffins, cookies, sauces, cakes, frostings to beautiful desserts and of course in drinks as well!.
The recipes and great ideas here are too delicious not to be tried
http://www.food.com/bb/viewtopic.zsp?t=383095
Homemade Liqueurs for Gift-Giving
People enjoy giving and receiving homemade goodies, including homemade liqueurs. Whether you're interested in a more economical way of stocking your own home bar, or whether you'd like to make your own signature spirits for holiday gift-giving, we'll offer a list of some of the homemade spirits and liqueurs that are posted on this site. And keep in mind that many of the recipes are great for hostess gifts for all those parties you'll be attending this holiday season. Or you can toast all your friends at a potluck with your own unique signature concoction. Come join the fun in the
ToGo/Picnic/Potluck Forum
and find your favorite homemade liqueur to make for holiday gift-giving.
Homemade Liqueurs for Gift-Giving
El nabicol - Turnips
The darker and colder months of the year have officially begun and now all we long for are warm and comforting foods. Come and join us this month in the
Spain/Portugal forum
to find out what yummy winter warmers you can cook up using the humble turnip. We would love to see you there!
http://www.food.com/bb/viewtopic.zsp?p=5789478
Brazilian Mocha
You are invited to join Dib's in the
South/Central American Cooking Forum
for a Brazilian Mocha
http://www.food.com/bb/viewtopic.zsp?t=383106
Ropavieja
If your looking for a dish where the meat is incredibly tender and thoroughly infused with the flavors of tomatoes, peppers and onions in a rich sauce, this recipe is for you! Serve "Old Clothes" with black beans, white rice and fried plantains for a traditional Cuban meal!
http://www.food.com/bb/viewtopic.zsp?t=383105
MOROCCO
Time to pack your bags & go to MOROCCO!
Christmas Jams
Every year around this time the
Canning, Preserving and Dehydrating Forum
receives requests for Christmas Jam Recipes. Please join the discussion for some great recipes and to recommend your favorite recipes to others.
http://www.food.com/bb/viewtopic.zsp?p=5788941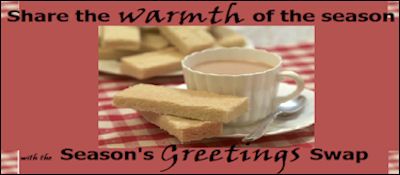 Season's Greetings Swap
The Season's Greetings Swap is now open in the Cooking Contests & Events Forum. You are invited to join this fun event being hosted by
mickeydownunder
.
This year's swap will encompass all country's, cultures, religions from around the world and their holidays during the months of November, December and January too!
Holiday Ornament Swap
Tiggrr
is hosting this year's 10th Annual Holiday Ornament Swap. You are invited to sign-up to the swap until November 9th
http://www.food.com/bb/viewtopic.zsp?t=382586
Santa's Bargain Bag Swap
This year Santa had to follow a tight budget and shopped at many discount stores. He found places like Big Lots, Dollar General, Dollar Tree, Family Dollar, The Christmas Store and many more. For this swap we will also be shopping only at discount stores.
You are invited to join the swap - Sign-ups begin November 2nd and close November 5th.
http://www.food.com/bb/viewtopic.zsp?t=383136
click here:
Swap Policies ~ Please Read Before Signing Up!
Are you interested in hosting a swap? Please contact
Susie D
to reserve a spot on the the swap schedule.

PAC Fall 2012
Event Dates: Oct. 6th - Nov. 10th
It's not too late to join the fun in the Pick A Chef (PAC) Fall 2012 Event !
There is still much fun to be had and plenty of babies waiting to be adopted
http://www.food.com/bb/viewtopic.zsp?t=381081&start=0