Last Night Blue Apron Saved My Life
When you realize that you're on a first-name basis with the takeout delivery guy, you know it's probably time for a change. That was me until a few months ago — a busy working mom who was usually racing in the door every night panicked about what she was going to put on the table. Sound familiar? My story is a little different, because even though I sound like a million other harried parents out there, I happen to be the editorial lead on a cooking website. I'm surrounded by recipes and dinner inspiration, so if I couldn't pull it together to feed my family, then who could?

Enter Blue Apron. After receiving a recommendation and accompanying coupon from a girlfriend, I signed up and became one more curious meal-kit guinea pig. No matter how much you slay it in the kitchen (I'm a weekend warrior who throws dinner parties left and right), we all dread weeknight dinners, and sometimes there literally is no time to plan and shop. For those nights, Blue Apron will take care of the shopping and thinking for you.
First Up: Chicken Bolognese & Rigatoni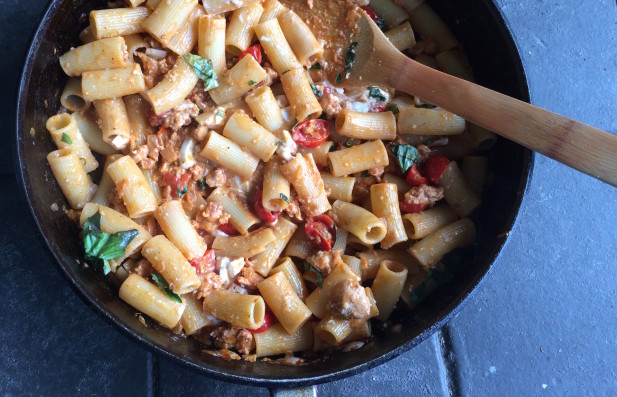 I signed up for the family plan, which gets you two 4-serving meals. When the box arrived, we all gathered around it for a little opening ceremony, much like Christmas morning (perhaps we need to get out more?). Every ingredient is perfectly portioned and corresponds with a glossy 8-by-10 recipe card that has clear instructions and photos to match.

The website presents you with four options. For our first week I chose salmon with lentils (which we loved — even my 10-year-old) and this luscious meaty pasta. You might think, "Pasta? I don't need help making pasta." Don't be fooled; Blue Apron doesn't skimp on the fresh herbs and beautifully ripe produce, and what I like about their recipes is that there always seems to be one twist or ingredient that takes the dish to the next level. For this pasta, a few dollops of mascarpone cheese swirled in at the end mellowed the acid from the tomatoes and made the sauce silky and rich. First-week verdict: a success!
Oven-Fried Chicken + More Fixings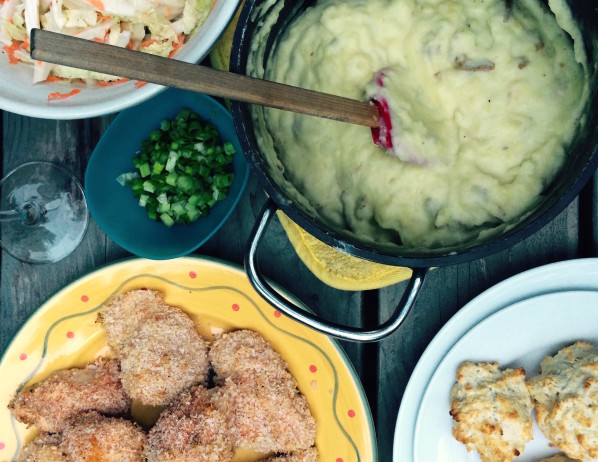 Blue Apron is great about giving you in-season meal options. We started using the service at the end of summer, so this meal of fried chicken, sweet-tart slaw, potatoes and biscuits felt just right. It's definitely a meal I'd normally make in August, but not on a hectic Tuesday, so my delighted family dove in with extra gusto. It required a good amount of prep (everyone knows fried chicken involves a three-step dredging process), but because all the ingredients were already measured and waiting, it felt manageable for a weeknight. Bonus: Blue Apron has a recycling program for all their packaging, so you can feel green and save the earth after you eat.
Summer Veggie Quiche + Arugula Salad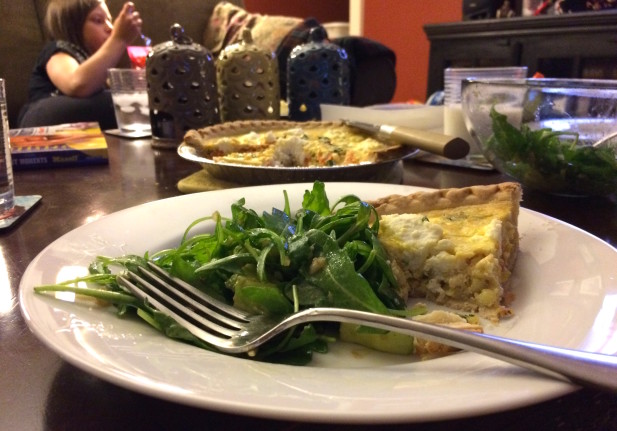 I adore breakfast for dinner (aka brinner). It's a great, low-key option for the nights when you can't even pull it together to sit upright at the dining room table (notice my daughter in the background, lounging on the couch while eating and gazing at the TV). I took this shot from the other couch while practically lying down and shoveling this lovely ricotta, basil and tomato-and-corn-studded quiche into my mouth. No judging here: Some nights, you just really need a soft place to land and zone out. This comforting meal was perfect for that.
My Fave: Hoisin Pork Burgers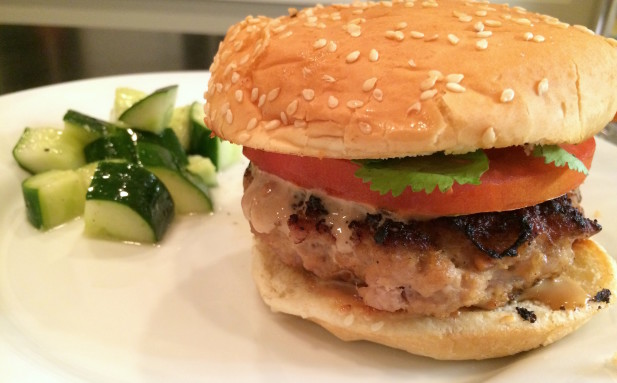 I absolutely loved these saucy, sweet-and-sour pork burgers. I think ground pork is underrated and underused when it comes to meatloaf, meatballs and burgers (so juicy and flavorful!) and because all of Blue Apron's meat and produce is coming directly from quality suppliers and farms, you can feel good about the food that you're feeding your family. Funny side note: Somehow the little container of hoisin sauce was left out of our shipment, but I cobbled my own together quickly using an easy recipe (thanks, Food.com!) and all was right in the kitchen. These burgers were the bomb.
The All-Around Winner: BBQ Roast Pork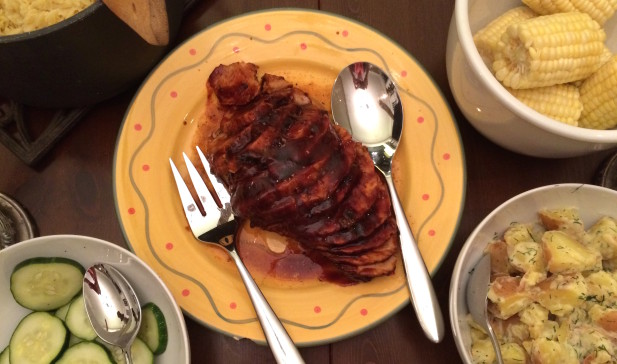 This was, hands down, the favorite of my whole family. The quick-pickled cucumbers, fresh corn, dilled potato salad and tangy roast pork hit the spot with my meat-and-potato-loving husband and kids. I consider myself a pretty tough customer, and once again, Blue Apron charmed and surprised me and my taste buds. We now look forward to our next box, and because the portions are so generous, we usually have enough leftovers for lunch the next day. At about 60 bucks per week for that many servings, it's a lot cheaper than takeout and a ridiculously better deal than dining out.

Final Thoughts + Dinner Shenanigans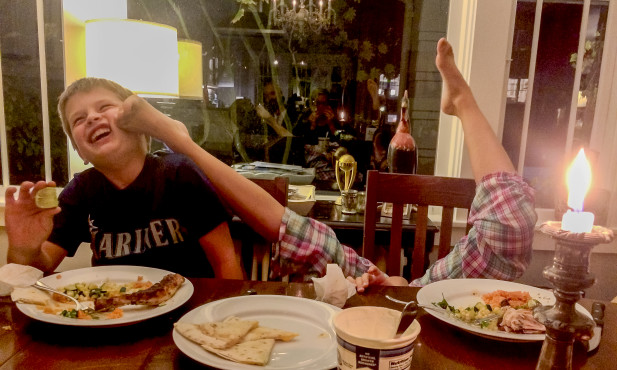 During my initial heated love affair with Blue Apron, the boxes arrived fast and furiously. Now I've settled into a nice, comfortable relationship with them that I know I can count on. Because they give you ample meal options to choose from and make it so easy to skip a week, you're never going to get a meal you don't want or need. Some weeks we're out of town, and some weeks I already have a few Food.com recipes I want to cook, so we skip the delivery. But during the weeks that we're in town and need that extra help (and want to eat really well), Blue Apron saves me.

As you can see in the photo above, when it's a Blue Apron night, everyone has fun at dinner. Good food means no one's complaining. No one complaining means we can focus on each other and have fun (perhaps a little too much fun).

I highly suggest you give it a go. They're giving you a $20 coupon just to try it out — free food, people! Also they just added a wine-pairing plan! And my husband can do it. My husband can barely make a sandwich, but he can cook a Blue Apron meal. That, my friends, is worth the whole shebang right there.

Presented by: Blue Apron