Popular Categories
Top Ten Searches
Thrill your kids with these awesome ideas.
Rethink your typical chicken dinner with these piled-high sandwiches, pizzas, tacos and main dish salads.

Find a new weeknight winner »
---
Submit up to three recipes showing us how you use A.1. Sauce in a creative way for a chance to win BIG!
Get the scoop & enter here »
Recipe of the Day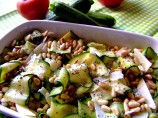 I am a slowly becoming a semi-retired, self-employed contractor.
Mr. Bill in TN's Top Recipes
Sweets We're Craving Now
Check it Out
Get recipe inspiration, save on groceries and put dinner on the table stress-free.
Summer Faves
Summer Sides & Salads
Popular Recipes
Enjoy the season to the fullest with our home cooks' favorite recipes.
Free Weekly Newsletter
Everyday Meal Ideas
Get a great meal on the table that the whole family will love with these time-saving picks.
---
Over 475,000 Recipes
Food.com Network of Sites